Beyond the Blue and White Home
This Hanukkah, decorate your home with dazzling designs that go beyond boring blue-and-white banners and store-bought signs made of cardboard and shiny plastic. Instead, think of Hanukkah — the Jewish Festival of Lights — as an eight-day opportunity to explore your creative and cultural sides, expanding your color palette to include shades of turquoise, green and cobalt, as well as metallics like silver and gold. Add lively brights like hot pink and mandarin orange.
Think outside of the (neatly-wrapped-with-ribbon) box this Hanukkah, and festoon every room with Judaic artifacts and festive arts-and-crafts projects guaranteed to make your house and holiday spirit sparkle.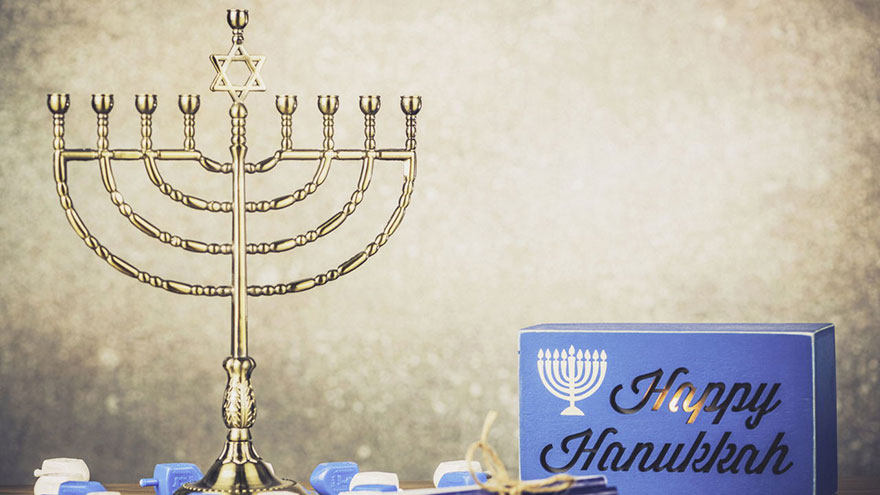 Handmade for the Holiday
When decking your Hanukkah hallways, a little bunting — the strips of cloth used to make flags and other decorative items — goes a long way, according to Meri Cherry, Los Angeles-based teacher, entrepreneur and creator of the kid-designed T-shirt brand verymeri.
"Cut out candle and dreidel [shapes] from cool, colorful paper or pretty, soft felt and hang them on a string or ribbon," said Cherry, referring to the traditional four-sided spinning top with Hebrew letters on each side that's used in the Hanukkah gambling game (for both kids and adults) of the same name.
"Handmade oversize Hanukkah gelt — coins given as presents to children — are also really great decorations," Cherry said. "First, cut out big circles of cardboard. Then cover with gold foil or tin foil and decorate with gold or silver puffy paint. You can also use the handmade gelt as part of a children's scavenger hunt, which kids always get a huge kick out of during the holiday season."
Cherry also recommends tempting your inner artist with Sculpey oven-bake clay, the perfect material for molding a merry medley of Hanukkah symbols, including chanukiot (the eight-branch menorahs kindled each night of the holiday), dreidels, gelt and Jewish stars. Once complete, you can hang your painted sculptures on a mobile as a room's decorative centerpiece.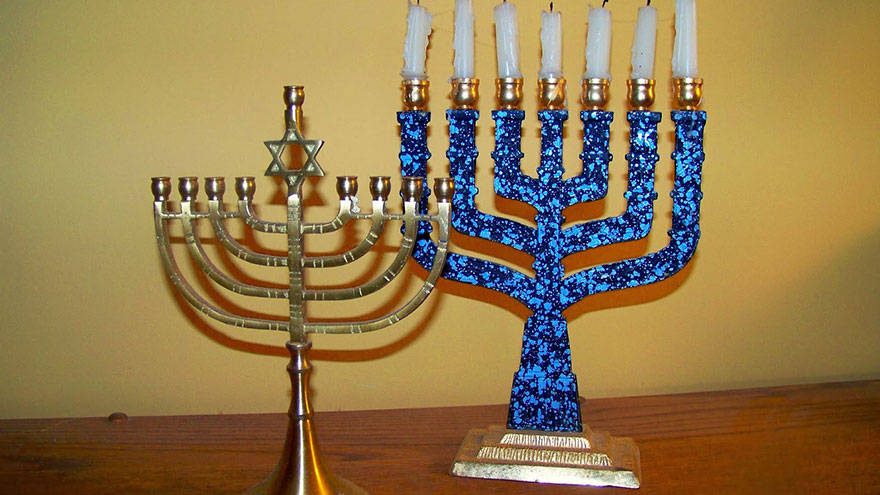 Display-Worthy Cards
Now that your home is the standard for top-notch Hanukkah decor, everyone will look to you as an aesthetic guru. Start by skipping the traditional card shops, and make your own greeting cards that are downright display-worthy.
"Hanukkah greeting cards can make for beautiful holiday decorations," said Meri Cherry, Los Angeles-based teacher, entrepreneur and creator of the kid-designed T-shirt brand verymeri. "I always tell people who want to know what they should send someone as a gift to make sure the card is just as pretty as the present itself."
It's not necessary to pluck an overpriced card off the stationery store shelf, noted Cherry. Half the fun in sending cards is making them. "You can easily make super cute Hanukkah cards from card stock and tissue paper," said Cherry, who suggests taking a trip to an art supply store with a wide selection of card stock in a bevy of colors and textures (blue-and-white patterned card stock works especially well this time of year).
"Fold the card stock in half," Cherry instructed. "Draw a dreidel on it in pencil or marker, or another design of your choice, like a Jewish star. Squish small squares of tissue paper and glue along the lines of the dreidel or whatever shape you've traced." Before giving these cards, you can incorporate them into your decor; for instance, use them as place settings for guests, or simply display them, without envelopes, for guests to peruse.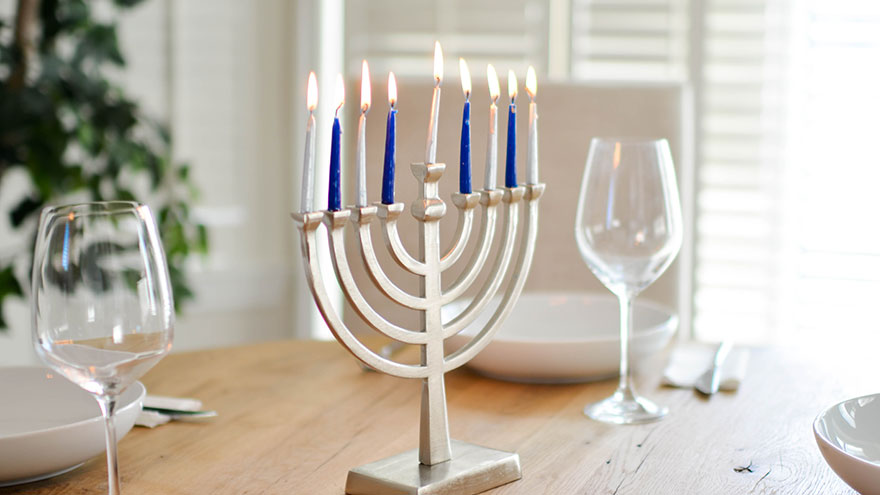 Eco-Chic & Special
Using eco-friendly materials (try creating hand-dipped candles made from recycled wax) adds to the do-it-yourself fun, Cherry noted. "Save up some recyclables from around the house — bottle caps, long rectangular boxes, toilet paper rolls — and make a chanukiah [menorah] that you can use with real candles," Cherry advised. "Spray paint your chanukiah gold or silver to make it look really special."
According to Katie Rosenfeld, Massachusetts-based interior designer and founder of Katie Rosenfeld Design, an eclectic mix of chanukiot featured in different areas of your home — it's Jewish practice to place your chanukiah on the windowsill so it's visible to passersby — makes for a beautiful and meaningful design aesthetic.
"There are so many great looking chanukiot out there in wrought iron, silver or pottery — there's even one by Jonathan Adler shaped like a peacock — that I buy a new one each year!" said Rosenfeld, who suggests mining online specialty shops like Etsy, West Elm, Art Judaica and eBay for offbeat and unique Hanukkah treasures. "My recent obsession is a tall iron one that looks more like a fabulous farmhouse candelabra."
Vintage dreidels made of brass, stained glass and antique wood are another one of Rosenfeld's favorite indoor adornments. "They look great in apothecary jars or in a large bowl," said the design guru. "Or you can scatter them along the table or put one at a place setting."
Loads of succulent, jewel-colored fruits — oranges, pomegranates, lemons and limes — arranged in oversize glass and ceramic bowls also lend a jubilant air to a Jewish home during the eight-day celebration, noted Rosenfeld.
If you must incorporate signage into your Hanukkah holiday décor ("I'm not a sign hanger," said Rosenfeld, "because I think they're sort of cheesy.") stick with simple paper garlands in shades of powder blue and muted gray that you can string across a mantle or above a piece of furniture.
Lastly, Rosenfeld puts a twist on classic candy-striped, Dickensian Christmas stockings, instead sewing them in a Hanukkah-friendly blue-and-white pattern. "Use them as a nightly candy-filler for each of eight nights of the Hanukkah holiday," Rosenfeld said.
But the best part of Hanukkah decorations, declared Cherry, is that they can easily double as presents, making the gleeful holiday gift-giving process even more exciting. "Make a Hanukkah pop-up book for each night of Hanukkah and display them on tables in the dining room, kitchen and living room," Cherry said. "Kids can make one before Hanukkah, and each pop-up window can have a picture of a gift they are hoping for. When it comes to holiday decorating, it's all about visualization."
You Might Also Like :: How to Celebrate the First Night of Hanukkah