How to Minimize the Stress of Being a Car Salesman
An automobile salespersons' success ultimately determines the success of the dealership where he works. Car salesmen can experience great pressure and stress trying to meet sales goals and personal financial obligations.
In fact, car salesman have relatively high turnover rates compared to other occupations, according to the 2018-19 Occupational Outlook Handbook. Minimizing the amount of stress a car salesman feels allows him to stay focused and provide better service to customers.
6 Steps to Minimize the Stress of Being a Car Salesman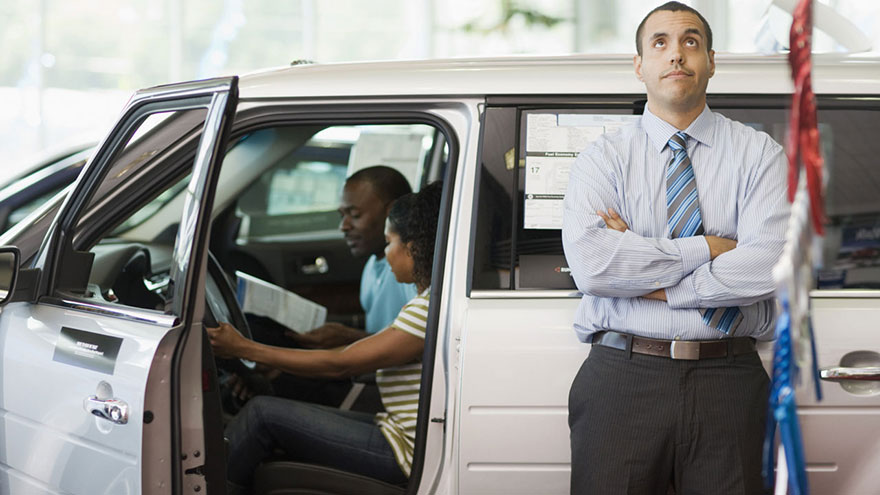 1. Be prepared when greeting customers on the car lot.
Take all the materials and information you need when talking to customers about the automobile, such as the specs and price of each car. Carry business cards in your pocket to hand them out, as needed, instead of making another trip to your office.
Greet customers as soon as they arrive on the lot. Making customers wait any length of time increases customer frustration and their dissatisfaction with you.
2. Know the car lot's inventory.
Stay up-to-date on the makes, models and colors of cars you have on the lot. Memorize the location of popular car models to instantly direct customers to the right location instead of looking for another lot attendant or car salesman for help.
Knowing what inventory you have and where it's located makes you appear confident to customers and prepares you to switch gears in short order should you be dealing with multiple customers at the same time.
3. Be honest and forthright when discussing and trying to sell the automobiles.
Disclose any known mechanical or cosmetic defects with the cars. Being honest with the customer about the automobiles minimizes any remorse that goes along with manipulating customers.
4. Help customers find cars that are within their budget.
Show genuine care for what the customer can afford instead of solely focusing on the sales aspect of the deal. For example, selling an automobile to an elderly person who may not have a huge budget differs from selling a car to a successful business owner.
5. Prepare any paperwork as much as possible before bringing customers to your office to close the sale.
Place delivery checklists, repair work documentation and seller's claims and title documents in one convenient spot on your desk or in an organized filing drawer with tabs for each vehicle make.
6. Set aside money from each spring and summer's sales commission checks.
Place this money into a "reserve" or savings account. Use this account to pay for living expenses during months when car sales typically slow—such as in late autumn and winter.
You Might Also Like :: Nutrition and Physical Fitness for Law Enforcement Officers