How to Record My Last Will & Testament
Keeping a current last will and testament is important for anyone who desires to protect his last wishes regarding possessions, assets, cash, bank accounts, dividends and other monies. Once created by an individual, service or attorney, the document must be recorded with the local county recorder's office. Many recorder's offices have different requirements and fees can vary by jurisdiction.
For this reason, it is a good idea to thoroughly research all requirements. Information can be obtained from local county recorder's offices, attorneys who specialize in estate law, attorney service firms and online document preparation services.
Things You'll Need
Completed original and copies of last will and testament
Information on local county recorder
Appropriate fees
Self-addressed, stamped envelope
Check or money order
4 Steps to Record My Last Will & Testament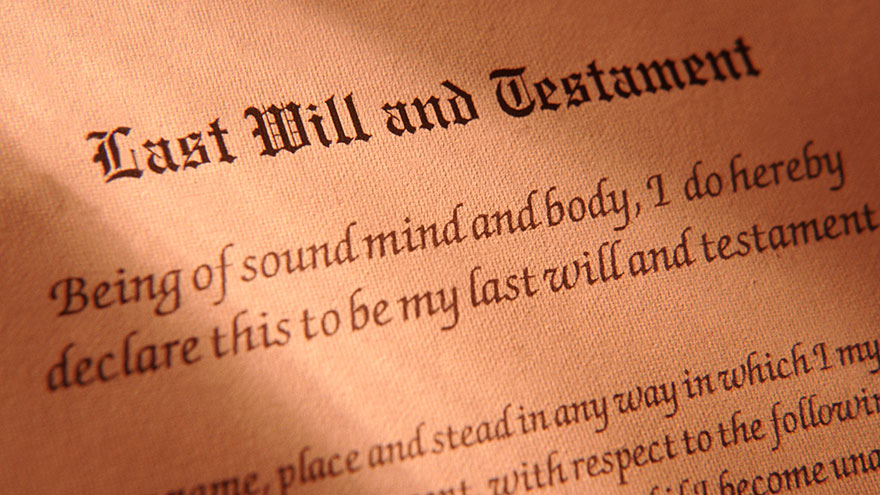 1. Before locating the your county recorder's office, be certain that the document conforms with the legal standards and statutes of your state.
Check with a lawyer or service in your area that specializes in preparing estate documents.
2. Use a document recording service.
Services such as the Law Firms Register at Wills Index have a list of law firms that provide legal advice and services relating to preparing and recording last wills and testaments. This can be beneficial to ensure that all of the requirements are met when it is time to record your last will and testament. There also are knowledgeable attorney service firms, such as Janney and Janney, that can guide you in the recording requirements for documents and make daily runs to county recorder offices. They can obtain conformation instrument numbers and copies of your documents. They can often also advance recording fees if required.
3. Check the county recorder website.
Check your local county recorder website for hours, fees and other requirements so that they conform with the law and your documents are not rejected for any reason.
4. Arrange to mail or take the original last will and testament to the county recorder.
You can record documents in person or by mail. Bring either the original or a certified copy to your local recorder's office during its business hours along with the necessary fees. Ask for at least one extra stamped copy as a precautionary measure. Generally, they will copy the document for image processing or mail the original back to you after it is processed several weeks later. Leave an extra copy of the document with the officer so that a conformed copy may be mailed back to you in a self-addressed, stamped envelope that you provide.
If submitting documents by U.S. mail, include the appropriate fees in a check or money order. Mail the documents and payment to the appropriate recorder's office. When the documents are examined, a conformed copy will be mailed back if it is accepted for recordation. If rejected, the document and payment will be returned with an explanation to be corrected.
Tips and Warnings
Check the County Recorder Guidelines and FAQ thoroughly for recording documents and review possible reasons for rejection.
Ensure that the Last Will and Testament conforms with legal standards in your area.
Avoid the rush by allowing for plenty of time to process your documents and try not to go during peak hours.
Review the document on a regular basis to ensure that revisions are made as necessary.
Keep a certified photocopy of the document in a different location than the original.
You Might Also Like :: What Protects Families From Power of Attorney Abuse?