If you're going camping over a long-weekend, you will want to bring enough food supplies to last you all three days. At the same time, you'll lonly want to carry what you need, since you don't want to add unnecessary weight to everything to the camp load.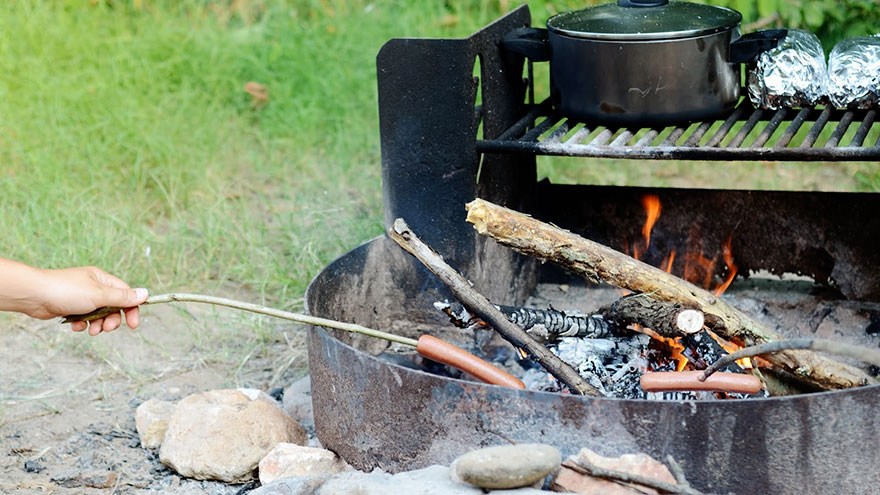 Breakfast
If you're a cereal eater, fill three small sandwich bags with your favorite cereal and pack small, individual size cartons of milk. If you like a big breakfast, add a bran muffin.
Multiply this meal by the number of people in your party. You might want to add the muffin even if you're not a big breakfast person; you can keep it to eat as a snack if you get hungry before lunchtime.
Lunch
One of the most enjoyable parts of camping is firing up the grill. Many campsites have built-in grills for campers, or you can carry along a small, portable grill. A couple of hot dogs (don't forget the buns) and a side of potato salad from your cooler will keep you full until dinnertime.
Alternately, if you don't want to fire up the grill at the hottest time of the day, consider peanut butter and jelly sandwiches for everyone, along with individual-sized potato chips. A small envelope of lemonade mix or some other drink mix quickly transforms plain water into a flavorful, refreshing drink.
For variety's sake, you might choose to do hot dogs for lunch on days one and three and peanut butter and jelly sandwiches on day two. Multiply this by the number of people in your party.
Dinner
After all of the day's activity, you're likely ready for a tasty and hearty meal. Throw some burgers and corn on the cob on the grill. A burger and corn on the cob per person should do the trick. A side canned chili, which can be quickly heated in a pan over the fire, will fill you up and keep you warm as the weather cools down.
Don't forget the buns and condiments. If you don't want burgers all three nights, bring enough for one night, then bring chicken wings for the second night and steak or chicken breast for the third day. Multiply this by the number of people in your party.
And add a bag of marshmallows to your camping grocery list so you can roast them by the fire as the sun goes down.
Tips
Freeze your meats before packing them in ice so they will stay cold enough to prevent bacterial growth. If you won't have access to ice to replace melted ice from your cooler, opt for foods that don't need to remain cold or can survive in minimally cooled areas
For example, pre-cooked meats and snacks can help to alleviate the stress of packing frozen foods.