Freshwater Kayaking Locations in Broward, Florida
The Atlantic Ocean beaches might be the main draw for water lovers in Broward County, but a network of freshwater channels makes the cities in this South Florida county an exciting spot for kayakers.
The paddling scenery ranges from urban-chic to untouched wilderness, giving you some of the most diverse river runs in the state.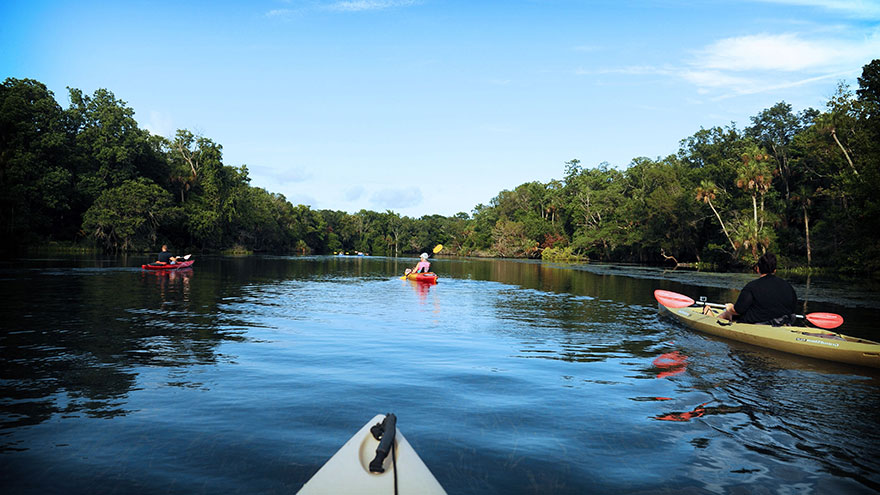 The Urban River
It's unusual to see a river running through the heart of a city in Florida, but the New River cuts right through downtown Fort Lauderdale. Launch from Cooley's Landing on Southwest 7th Avenue to paddle through this urban oasis.
You'll pass the Broward Center for the Performing Arts and the chic shops and hangouts along fashionable Las Olas Boulevard. For slightly different adventure, put in at Victoria Park, and take a more southerly route through the area's wealthy neighborhoods to gawk at the multimillion-dollar mansions that line the waterway.
Wilton Manors
Wilton Manors is an inland island city just north of Fort Lauderdale, surrounded by a watery loop formed by the Middle River — creating a 7-mile loop for kayakers. You can rent a kayak and put in at the dock at the Richardson Historical Park, or launch from Colohatchee Park if you bring your own kayak.
The loop is mostly bordered by park spaces and residential areas. Huge tarpon are known to populate the waters, and manatees may swim by as well.
RELATED :: Kayaking in Morris, Illinois
Mangrove Mania
Nestled on a barrier island between the Atlantic Ocean and the Intracoastal Waterway in Dania Beach, John U. Lloyd Beach State Park offers some of the best kayaking in Broward County. A boat ramp in the southern part of the park dips into the Intracoastal. From there, paddle east into Whiskey Creek, which runs alongside the Intracoastal for about 1.5 miles.
You won't see much of the bigger waterway, though, because the narrow creek — supposedly named for alcohol smugglers who hid there during prohibition — is lined with thick mangroves. The creek is shallow, making it easy to view the many fish swimming next to you, and check the sky for bird species such as osprey flying by.
The River of Grass
Everglades Holiday Park is called the "gateway to the Everglades" because of its location on the eastern edge of the massive wetland, just west of Fort Lauderdale. Though the area is known for airboat rides, kayakers can launch from multiple boat ramps and paddle into the Everglades Wildlife Management Area.
The waterways wind through sawgrass marshes and clusters of lily pads — spots where the local wildlife likes to hang out. Keep an eye out for alligators, turtles, egrets, great blue herons and more as you coast through the 'glades.
You Might Also Like :: Kayaking & Camping at Carter Lake Reservoir