How to Make a Breast Cancer Awareness Wreath
The key to fighting breast cancer is awareness. Share your dedication to breast cancer awareness by displaying a wreath on your front door, windows or wall at work. Keep your wreath displayed during Breast Cancer Awareness Month in October, and throughout the year.
Things You'll Need
4 to 5 small bunches of pink, silk flowers (optional)
4 to 6 feet of thin, pink ribbon
Metal wreath hanger
Glue gun (for crafting) with glue sticks
24-inch to 48-inch wreath
Small roll of 2-inch wide pink ribbon
3 Steps to Make a Breast Cancer Awareness Wreath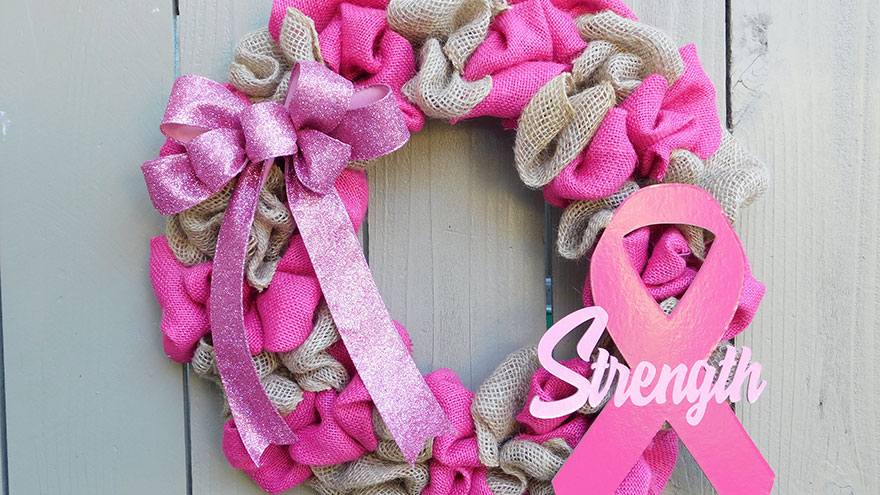 1. Decide on the size of your wreath before purchasing materials.
You may want to consider where the wreath will be displayed and what you will be setting it on.
2. Purchase a plain, undecorated wreath from the local craft supply store or nursery.
The wreath can be made of grape vine, holiday wreath or foam.
3. You'll also want to get some decorative items to use on your wreath.
6 Steps to Decorate Your Wreath with Breast Cancer Ribbons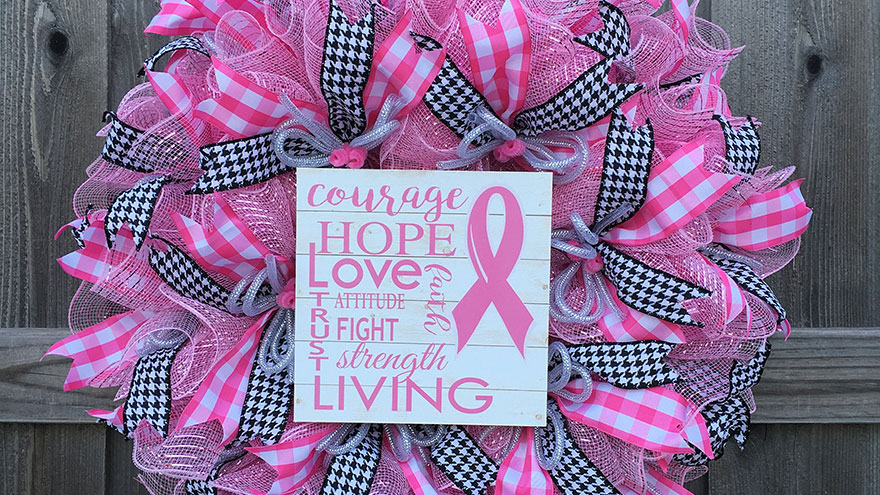 1. Lay the plain wreath facing up for you to work on.
If there is a hanger or metal wire for hanging the wreath installed on the back, make sure this is at the top of the wreath while working on it.
2. Cut your thin ribbon into pieces about 2 inches each, for 1 inch ribbons.
You can make the ribbons by folding the 2 inch piece in half, and placing your index finger and thumb about half way down the folded ribbon. Your fingers should slide away from each other slowly, so the 2 ends are about 1 inch from each other, creating the universal Breast Cancer Awareness symbol.
3. Use a small amount of glue from your glue gun to secure the ribbon where the 2 ends cross, to keep the shape.
Once your first ribbon is complete, you can set it aside to cool and continue making enough ribbons to fill your wreath.
4. Apply a small amount of glue to the back side of each ribbon (preferably at the cross section) and place it on the wreath.
You should hold the ribbon until the glue is secured to the wreath. This process can be repeated around the wreath, leaving several inches at the top for 1 large ribbon.
5. Take the roll of wide pink ribbon and cut a piece approximately 3 times the length of the ribbon you desire.
For example, a ribbon that is 1 foot from top to bottom requires 3 feet of ribbon. This ribbon should be tied into a traditional bow and secure the knot before attaching it at the top and center of the wreath.
6. Fill in openings on the wreath with decorations such as lights, leaves, silk flowers or beads.
For grape vine and holiday wreaths, it is fine to use the ribbons only for decorating. Foam wreaths will require you to fill in openings.
Tips & Warnings
Keep glue guns away from children. Always unplug your hot glue gun when you have finished using the gun. Allow for it to completely cool before storing it.