How to Plan a Pioneer-Themed Children's Party
Although your 1800s pioneer party can feature some elements from the lives of cowboys and cowgirls, Native Americans, outlaws and gold miners, the party's focus should be on the intrepid homesteaders who traveled westward into new territory.
Invite children to join the journey with invitations shaped like wagon trains or a map of the Santa Fe or Oregon Trail, and let the children's parents know the kids should wear appropriate Western-themed attire.
Cowgirls might wear a bonnet with long skirt, while the cowboys could dress in a vest, jeans and cowboy boots with a cowboy hat.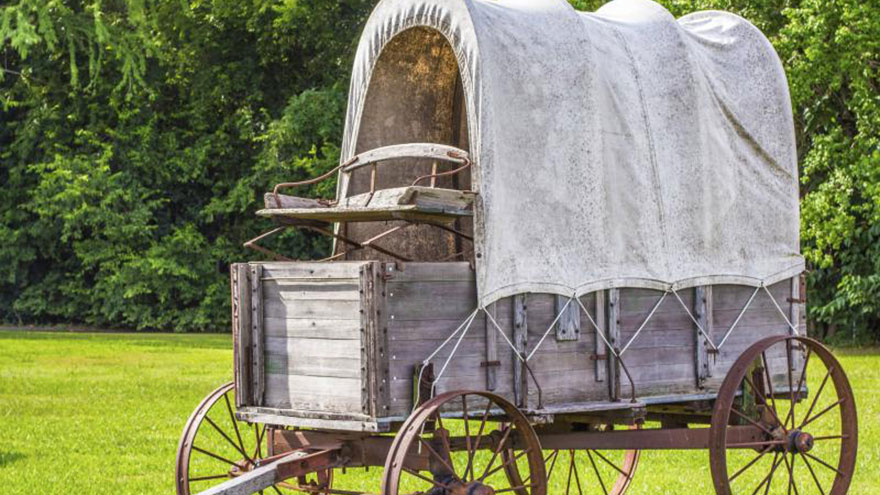 Set the Scene
Hay bales, a few logs, a pair of cowboy boots, a hoe, a coil of rope and a lantern set outside your front door welcome guests into the frontier life. For an even more ambitious decoration, cut cardboard to resemble logs and place two on either side of your door with a crosspiece above.
Inside, use burlap fabric to cover tables, place a few corn stalks, real or artificial, in the corners and tie bandanas in multiple colors around lamps.
Create a Party Table
On a table covered with either a red-checkered tablecloth, burlap fabric or a quilt, place a pioneer-themed centerpiece. Choose either a bouquet of bright-yellow sunflowers set in a mason jar or a cowboy hat, horseshoes and mini-hay bales arranged artistically.
Use unbreakable mason jars as drinking glasses, pie tins for plates and bandanas for napkins. Or, serve root beer in bottles tied with scraps of cloth to resemble bandanas.
Serve Pioneer Food
If you're serving a meal to the children, go with pioneer specialties such as chili with beans or chicken nuggets labeled as "squirrel chunks," with cornbread or biscuits alongside.
For snacks, try dried apple slices, beef jerky and fruit, such as watermelon slices, blueberries or strawberries. And, for a birthday treat, decorate a cake with a mini pioneer clothesline using fabric scraps for clothes.
RELATED :: Healthier Snacks: Home Made Chips
Pioneer Chores and Activities
Chores were a big part of a child's life on the frontier, and your party guests can get a taste of these activities by helping with food preparation such as husking corn or making butter from cream.
For activities that might be a bit more fun, the children can create corn-husk dolls or flowers, make yarn dolls, or gather eggs or nuts in a basket using toy eggs or whole nuts in their shells that you've hidden around the house.
Fun and Games
Children of all ages enjoy the simple games that pioneer children played, such as "Hunt the Thimble," in which the child shouts "I spy" when he spots a hidden object, or a relay race with a pioneer theme by adding a cowboy or cowgirl dress-up challenge and Western-themed prizes.
Smaller children can play "Button Button," with one player walking around others seated on the floor, secretly passing a button to one of the children and asking the others to guess who has it.
You Might Also Like :: How to Throw a Hi-5 Birthday Party
Check out the video version of this article on YouTube
How to Plan a Pioneer Themed Children's Party