How to Start an Indoor Cycling Group
Indoor cycling can be a heart-pounding, energy-filled workout, especially when done with a group. If it's just you on a trainer or indoor cycling bike and your MP3 player, it may not be as inspiring. Starting an indoor cycling group requires you to find like-minded exercisers who also want to head inside during inclement weather or dark nights. Whether your intention is to get fit or to keep yourself in cycling shape during the off season, an indoor cycling group can keep you accountable to your workouts.
Things You'll Need
Certified coach or instructor or a group cycling or U.S.A. cycling coach certification for yourself or one of your group members
Outdoor bike trainers or indoor cycling bikes
6 Steps to Start an Indoor Cycling Group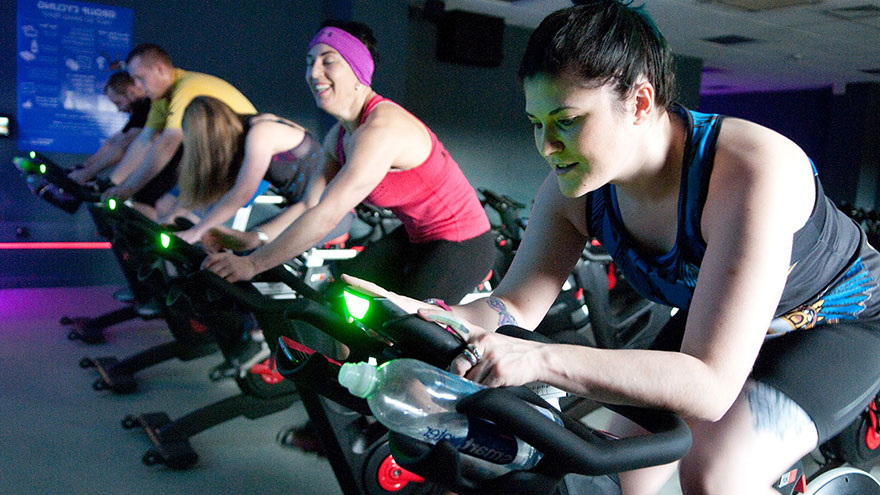 1. Determine the focus and mode of your rides.
Ask yourself if you are trying to get a group of avid cyclists or triathletes together to mount their outdoor bike trainers or if you want to get a group together to gain general fitness on specially-made indoor cycling bikes.
2. Identify your participants.
Contact family, friends and colleagues who want to get in shape or get in touch with local cycling groups or triathlon clubs to find people who are serious about their bike training during the off season. Find at least 10 other people who are willing to show up regularly. It's a good idea to have at least 10 to start because chances are only about half will show at any given class due to other engagements
3. Get certified in group cycling or acquire a U.S.A. cycling coach certification so you can lead the sessions.
If you do not want to get these certifications, find a qualified instructor or coach who can lead the groups for you. Contact fitness centers, bike shops and cycling clubs to find leads. Note that an instructor or coach will probably charge a fee for leading a class.
4. Look for a location.
Check with local rec centers or fitness centers that don't already offer group cycling classes. Contact bike stores that might have space for a group with trainers. Ask the interested participants if they'd have the space and willingness to host training events at their home.
5. Acquire any necessary 4444equipment.
If you are a group of cyclists with indoor trainers, inform people that they are expected to bring their own bike to the group rides. For classes that require indoor cycling bikes, check auction or sales sites for deals on used bikes. You may find a rec center that already has a set of bikes and is willing to let you use them for a small fee, provided you have a certified instructor.
6. Set times to meet.
Choose one or two days per week — early mornings or evenings tend to be the best times for people who work. Stick to these times week after week so people can plan accordingly.
Tips and Warnings
Adding a theme to your rides around fitness goals can help attract participants because it makes their workouts have a purpose. Endurance rides, speed intervals and hill simulations are examples of such themes. Consider playing music during the rides to create an energetic atmosphere.
Have participants sign liability waivers prior to participating to protect you or the instructor/coach.
You Might Also Like :: How to Find the Best Spinning Shoes