Perfect Yeast Doughnuts Recipe | Guide
It's winter and fresh doughnuts on a winter weekend morning are completely memorable, especially when eaten warm with a cinnamon sugar or powdered sugar. With frosting, you obviously need to let them cool to coat with icing.
Whether you'll be making these for your children, your grandchildren, friends, lovers, whoever, they will not be forgotten.
You'll want to use cooking oil for these doughnuts, not an olive oil or any heavy oil that will overpower the doughnut with its own strong flavor. Canola oil will be fine or vegetable oil will do.
I'm giving you the increments in full order and half order. Whenever I've shared this recipe, it's typically been for people that are making large amounts of doughnuts for gatherings of some sort – family party, bazaar or a holiday affair. The full recipe will make anywhere from 26-34 doughnuts depending on how large you make them.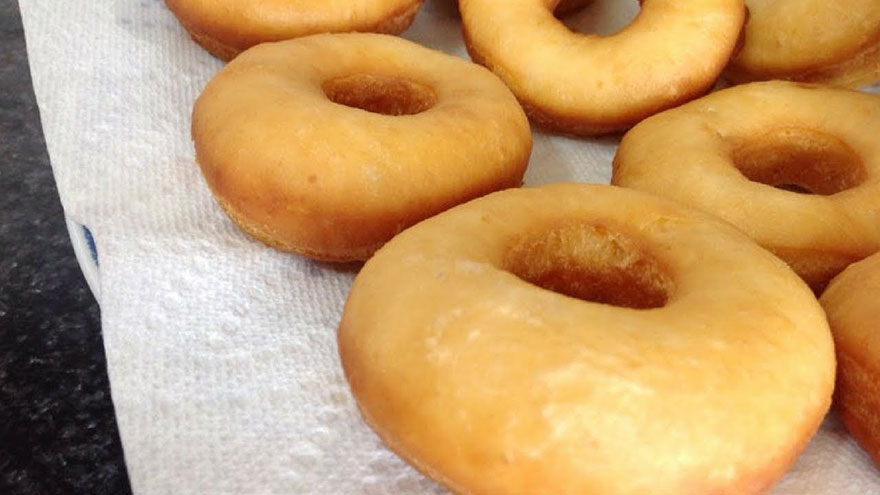 You can put this dough in the refrigerator for a few days, so if you want to prepare half and save the other half for a few days down the road, then do that. I've never tried freezing the dough but I would imagine it would hold up well as long as it's used within a month or so, just be sure to let it thaw completely.
Form the doughnuts ahead of time and freeze them. In any event, I'm giving the half incremented recipe, too. Take your choice.
Please read through the entire recipe before preparing. That should be done with any recipe. It saves unwanted surprises or unexpected frustration.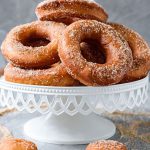 Print Recipe
Perfect Yeast Doughnuts Recipe
Please read through the entire recipe before preparing. That should be done with any recipe. It saves unwanted surprises or unexpected frustration.
Ingredients
11

cups

All purpose flour

2

cups

Sour cream

1

cup

Heavy cream

1

cup

Sugar

1/2

cup

Melted Butter

1/2

cup

Brown sugar

1/2

cup

Powdered sugar

2

tbsp

Baking powder

2

tbsp

Baking soda

1

tbsp

Vanilla extract

1

tbsp

Salt

4

Eggs
Instructions
In a large bowl, combine all ingredients except for the baking powder, baking soda, salt and flour.

Mix very well with a whisk until the ingredients are smooth.

In another bowl, combine the flour, salt, baking power, and baking soda and mix well.

Cup by cup, add the flour mixture to the batter mixture.

Mix very well after each addition of the flour mixture.

The batter will become a dough once all the flour is added.

Turn it onto a lightly floured board or lightly floured counter top once it is a dough.

Spread the dough out with your hands or a rolling pin to about 1/2 inch thick.

If you have a doughnut shaper, use that to form your doughnuts. If not, use a very wide-mouth cup or the top of a peanut butter jar, or anything that will give you a wide volume for the doughnut.

Now, remove the center ball (you can use these to make doughnut balls) and you can use a doughnut ball shaper if you have one. If not, what works very well is the cap from a single water bottle – not a gallon water container – but a single serving water bottle.

Form all of your doughnuts and leave them on the counter to rest.
Notes
Go and get a very deep and very large saucepan or pot. You can get a sauce pan that will allow you to prepare only one or two doughnuts at a time or a large pot that will enable you to prepare 4-6 doughnuts at a time. It depends on what cookware you have at your home. Maybe you have an in-house fryer. If that's the case, lucky you.
How hot should the oil be?
If you have a thermometer, the oil can be at 350 or so. Regardless of what the oil is when you begin frying the doughnuts, unless you have an in-house fryer that maintains a set heat, you're going to have to be savvy and get to know your oil and how long it will last you. It's like any cooking venture – trust yourself.
The more you do it, the better you get. Here's what I do: when the oil starts crackling and bubbling a bit, I throw the doughnuts in.
Fill the pot one-third the way up with oil and turn the fire on medium. Here's where to turn off the fear factor and just have fun and trust yourself.
When the oil is hot enough, PLACE (do not drop the doughnuts in – you'll burn yourself with splashes of oil) however many doughnuts will fill your pot, but leave room so you can turn them.
Set a timer for 3 minutes then turn the doughnuts (either with a fork or preferably a long handled flipper) and set the timer for another 3 minutes.
They should be done now. You can tell by testing one by breaking it open a bit to see that it's cakey in the middle. If it's still doughy, put back in the oil and give it another minute or so. If it's too cakey (almost dry) then you know to set the time for 2 1/2 minutes instead of 3, but 3 minutes per side is most popular.
Once you've removed them from the oil and all of your doughnuts are cooled, now is when you can frost them, sugar them, or serve them plain. If you're going to serve them plain or sugared, you can serve them warm. Frosted doughnuts, naturally, must first be cooled in order to be frosted.
Dipping Sugars
Cinnamon and sugar combined
Powdered sugar
White Icing
Heavy cream and powdered sugar – Mix to desired thickness and spread on doughnuts or dip doughnuts into the frosting.
Creamy Chocolate Frosting
Melt 1 cup chocolate chips in a sauce pan with 2 tablespoons of butter over low heat. Careful not to burn.
Once melted, remove from the heat.
Add 1/4 cup heavy cream and mix well.
Add powdered sugar to desired thickness and mix well until smooth.
Dip top half of doughnuts into the chocolate and put aside to set.
If you prefer a thicker frosting, spread onto the doughnuts.
Caramel and Heath Bar
Dip the doughnut in caramel sauce and sprinkle crumbled up Heath Bar over it. This can be done with any topping and any candy, by the way. For instance, chocolate frosting and snickers bars, white icing and pulverized peppermint candy, maple frosting and chopped candied pecans, see?
If you want to spice up your doughnuts, especially for the winter holidays, add a little cinnamon, cloves, nutmeg, and ginger to the batter (to taste). Start with 1/4 teaspoons and add more as you desire. Adding these spices to the dough gives the doughnuts a wonderful holiday flavor and aroma.
Enjoy!
I love getting new ideas.