How to Make Chinese Fried Chicken Wings
Start to Finish : 45 minutes
Servings : 4 to 6
Difficulty : Moderate
A crescendo of a cooking technique is the first thing sets these Chinese fried chicken wings apart from regular buffalo wings — the second is the sauce. Cooking starts with a slow rendering of chicken fat, just enough to get the wings frying in their own juices. Cooking peaks with full-on frying, crisping the wings to golden brown, and finishes with a slowly reduced sauce. The sauce — a marriage of Sichuan aromatics and Shaoxing wine — ties the wings, the fat and cooking method together in a sticky glaze.
Ingredients
10 to 12 whole chicken wings
Kosher salt
2/3 cup water
2/3 cup Shaoxing wine
1/3 cup palm sugar or an unrefined sugar, such as demerara
2/3 cup soy sauce
1/3 cup mirin
1/3 cup oyster sauce
1 3- to 4-inch piece of ginger, cut into 1/4-inch-thick slices
3 garlic cloves, smashed and peeled
1 3- to 4-inch cinnamon stick
2 lemongrass stalks, cracked
3 star anise pods
1 or 2 dried Sichuan peppers, stems removed
1 tablespoon of vegetable oil
1 tablespoon sesame seeds, toasted
Bed of spinach (optional)
3 or 4 spring onions (optional)
Chinese Fried Chicken Wings Recipe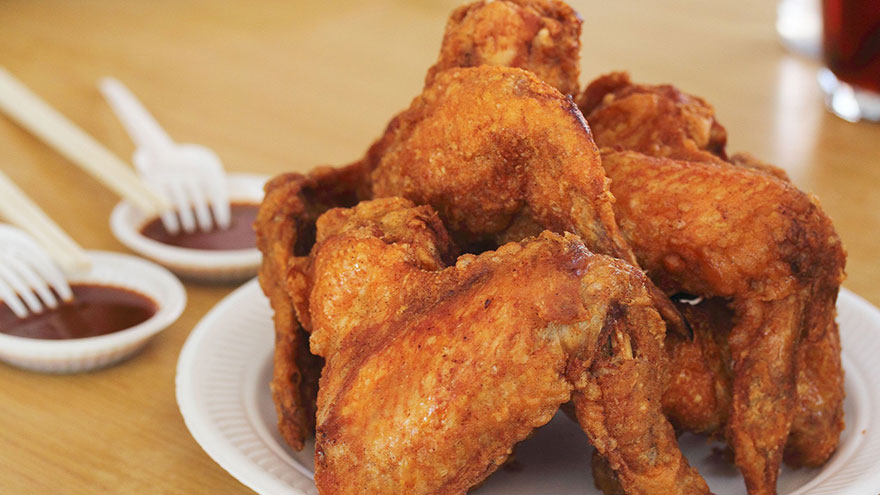 Pat the wings dry with paper towels and lightly salt them on both sides. Let the wings sit at room temperature while you prep the sauce.
Add the water, Shaoxing wine, palm sugar, soy sauce, mirin, oyster sauce, ginger, garlic, cinnamon, lemongrass, star anise and Sischuan peppers to a saucepan.
Bring the sauce ingredients to a boil and take the saucepan off the stove. Heat the vegetable oil in the pan over low heat. A wide, straight-sided frying pan or wok works best.
Add the chicken wings skin-side down to the pan. Cover the pan and cook the wings until most of the fat renders from the skin, about 20 minutes.
Turn the heat up on the wings to medium. Fry the wings until dark golden brown and turn them over. Fry the wings for 5 minutes on the other side.
Pour the sauce into the pan with the wings. Scrape the bottom of the pan with a wooden spoon. Cover the pan.
Simmer the wings for about 10 minutes and uncover the pan. Turn the wings over, skin-side down, and simmer the wings until the sauce reduces to a rich syrup, about 20 minutes.
Turn the wings over in the sauce to coat them. If necessary, use a pastry brush to coat the nooks and crannies of the wing joints with the sauce. Sprinkle the wings with toasted sesame seeds before serving.
Tip
To serve, tower the wings on a thick bed of fresh spinach and garnish them with the thinly sliced tops of 3 or 4 spring onions.
You Might Also Like :: Philippines Corned Beef Recipe