Philippines Corned Beef Recipe
Start to Finish : 25 minutes
Servings : 4
Difficulty : Beginner
Filipino corned beef, also known as ginisang corned beef or corned beef guisado, is a quick-to-make home-style dish that is most commonly eaten for breakfast. The dish is made with canned corned beef, onions and potatoes and can be panfried or simmered. The recipes, for the fried and stewed versions, are inspired by Filipino Style Recipes and Panlasang Pinoy.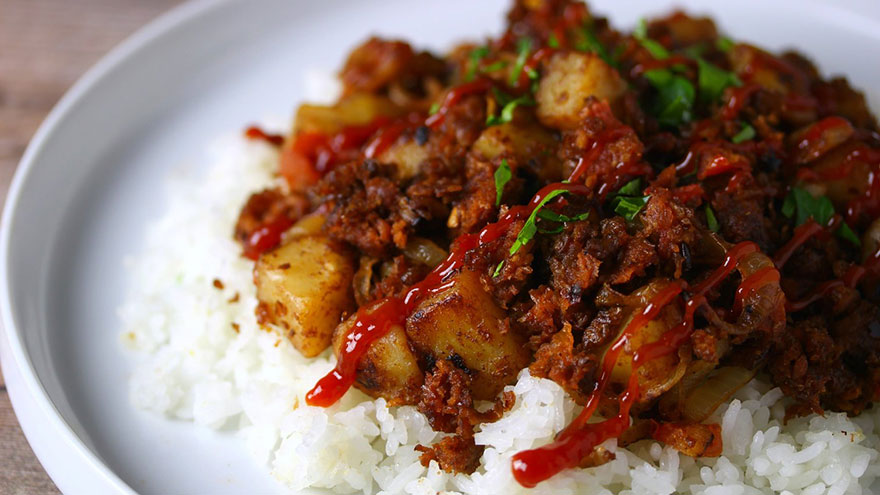 Ingredients
2 tablespoons vegetable oil
1 cup white onion, chopped
4 cloves of garlic, minced
1 Thai red chili pepper, minced
1 can corned beef
1 cup all-purpose potato, peeled and chopped into 1/2-inch pieces
1/8 to 1 cup beef or vegetable broth
Salt
Ground black or white pepper
Chopped fresh cilantro
Banana ketchup
Sambal olek
Directions
Fried Filipino Corned Beef
Heat the oil in a heavy-bottomed skillet over medium-high heat with the onions. Cook until the onions have softened, around 3 to 5 minutes.
Add the potatoes, cooking until they are browned and cooked through. Stir regularly. The onions will have turned translucent.
Stir in the garlic and chili pepper, cooking until the garlic is fragrant, around 5 minutes. Chop the corned beef into 1/4-inch or smaller pieces.
Add the corned beef to the pan and cook until the corned beef is warmed through and starting to crisp and brown. Add 1/8 cup of stock to the pan, and increase the heat to high.
Cook the corned beef on a fast boil until the liquid is almost gone. Season the dish with salt and ground pepper to taste, sprinkle it with fresh cilantro and serve it immediately alongside sambal olek and banana ketchup.
Stewed Filipino Corned Beef
Heat a medium-sized pot on medium-high heat, until the oil is shimmering and hot. Add the onions and cook them for 3 minutes, until they are soft. Add the garlic and chili pepper, cooking until they are fragrant, about 3 minutes.
Chop the corned beef into 1/4- to 1/2-inch pieces. Add it to the pot, along with the potato and stock.
Bring the stew to a boil, then lower the heat to medium and cover the pot. Cook the dish at a simmer until the potato is just cooked through, around 20 minutes.
Season the dish with salt and pepper and serve the corned beef while it is still hot, dressed with fresh cilantro. Serve it alongside banana ketchup and sambal olek.
Dress It Up
For extra heat, add extra Thai peppers or cayenne pepper powder to the corned beef while cooking.
Filipino corned beef relies on the flavor and texture of canned corned beef, which is widely eaten in the Philippines. You can use freshly made corned beef, but it will not produce a dish with the same taste or texture.
Use an all-purpose or waxy potato, not a baking or floury potato. Floury potatoes, such as Russet varieties, will fall apart when cooked. This dish needs the potatoes to remain firm and whole.
Make your own banana ketchup or samba olek to serve alongside the corned beef for a fancier, more upscale version of this otherwise basic home-style dish.
Banana ketchup is a sweet, sticky fruit-based ketchup native to the Philippines, made with — as its name suggests — bananas. Sambal olek is a red chili pepper sauce that is seasoned with fish sauce and garlic for a fruity, fiery condiment.
You Might Also Like :: How to Make Vietnamese-Style Egg Rolls