How to Make Pork Fried Rice
Start to Finish : 45 minutes
Servings : 6
Difficulty Level : Beginner
The Chinese people love pork above all other meats — it accounts for three-quarters of meat consumption in China, as of time of publication. This makes pork fried rice a signature dish, just a bit ahead of its competitors such as chicken; beef, shrimp; ham and mushroom; and Eight Treasures fried rice. With cooked and cold chilled rice made the day before, and pork already trimmed for stir-fry by your grocer, this dish comes together quickly.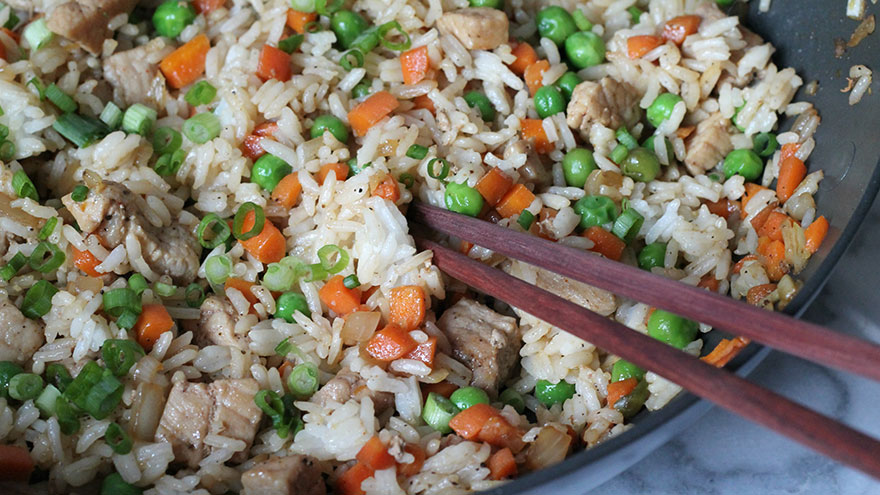 Ingredients
Pork and Marinade
12 ounces pork strips
3 scallions, trimmed into rounds, white and green parts separated
3 garlic cloves, minced
1 inch gingerroot, peeled and minced
1 tablespoon Shaoxing cooking wine
Stir-Fry Ingredients
Canola or peanut oil
4 cups medium-grain cooked rice, chilled for at least 4 hours
1 cup frozen peas, microwaved until hot and drained of excess water
1 cup bean sprouts
Finishing
1 tablespoon Shaoxing cooking wine
1 tablespoon soy sauce
Preparation
Combine your pork strips with the white part of the scallions, the minced garlic and the minced gingerroot in a suitable bowl. Add 1 tablespoon of Shaoxing cooking wine and stir. Set the bowl aside.
Arrange your chilled rice; hot, drained peas; bean sprouts; and bottle of cooking wine on a work surface near your wok and burner, so you can add ingredients quickly as you stir-fry.
Stir-Frying
Heat your wok until you can see heat waves shimmering up from the base. Add a tablespoon of cooking oil and swirl it around the base and sides for about 15 seconds. Pour the marinated pork strips into the wok and stir with a spatula until the strips turn partly white. Add a tablespoon of cooking wine and keep stirring, as it releases its fragrance and the strips cook to almost completely white. Remove the pork to a clean bowl near the stovetop.
Allow the juices left in the pan to cook down until most of the liquid boils off, leaving mainly oil in the bottom of the wok. Tip in the cooked, chilled rice and stir to coat the grains with the liquid. Add the hot peas and bean sprouts. Stir everything together until it is heated through, for about 3 minutes.
Sprinkle a tablespoon of cooking wine and a tablespoon of soy sauce over the fried rice. Stir and turn off the heat. Add scallion parts and stir them in. Allow the dish to rest for about 3 to 5 minutes — you can clean up the kitchen at this point. The flavors meld and excess vapor from the rice goes up the range hood ventilator, with the dish ready for table after it dries out slightly on the still-warm burner. Taste for seasonings and add slightly more soy sauce if you like.
Tips
If you have an Asian grocery nearby or a Chinese meat provender — the kind with ducks and sausages hanging in the window — cook a variation with 12 ounces of char sui to replace the pork strips in this dish. Or you can barbecue your own.
If you aren't working with leftover plain white rice, you can cook 1 cup of raw medium-grain rice the day before and chill it in the refrigerator, periodically removing it to break up clumps.
You can also prepare pork strips yourself by cutting across the grain of boneless pork chops.
Avoid adding salt to your fried rice. The soy sauce contains significant amounts of sodium already.
Avoid thawing the peas before cooking them — frozen vegetables taste best when cooked directly from the frozen state.
You Might Also Like :: How to Make General Tso's Chicken