How to Make Vietnamese-Style Egg Rolls
Start to Finish : 40 minutes
Servings : 6, as an appetizer
Difficulty Level : Intermediate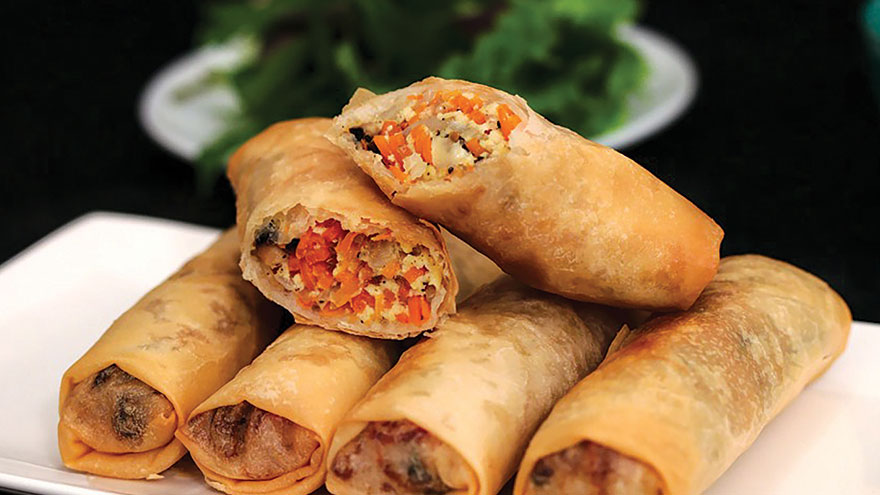 Vietnamese egg rolls, also known as Vietnamese spring rolls or cha gio, are more similar to Chinese spring rolls than to egg rolls. Tube-shaped and crispy, the rolls are filled with a mix of pork, seafood, noodles and vegetables.
This recipe, adapted from Rasa Malaysia and Wandering Chopsticks, uses rice paper wrappers rather than Chinese spring roll wrappers to get a crunchy but chewy exterior.
Ingredients
2 cups bean thread vermicelli
1 cup wood ear mushrooms
1 pound ground pork
1/2 pound of shrimp, finely minced
1/4 cup canned crabmeat, drained
1 1/2 cups green onion, minced
1/2 cup carrot, grated
2 cloves garlic, minced
1 teaspoon white pepper
2 teaspoons fish sauce
2 tablespoons rice wine
1 egg, beaten
1 teaspoon light soy sauce
Salt
24 rice paper wrappers, 6-inch
Vegetable oil
Thai sweet red chili sauce
Directions
Soak the vermicelli and wood ear mushrooms in a bowl of warm water, completely submerging. When soft, drain and chop coarsely into 1/4-inch pieces.
Tip
The wood ear mushrooms, also known as cloud ear mushrooms, can be replaced with dried shiitake mushrooms.Bean thread vermicelli, also known as mung bean vermicelli, should not be confused with rice vermicelli. It will stay clear when cooked and is more elastic than rice vermicelli.
Combine the pork, shrimp, crab, vermicelli and all the seasonings except the egg in a large mixing bowl. Stir thoroughly, then add the beaten egg in 2-tablespoon increments. The mix should be wet and sticky, but not loose from too much liquid.
Cook a small amount of the filling in a frying pan and adjust the seasoning — adding salt and white pepper — as needed.
Fill a large mixing bowl with cool water. Dip one rice paper wrapper in the water, wetting thoroughly. Place on a plate and pat down so there are no visible bubbles.
Spoon 1 to 2 1/2 tablespoons of filling in the center of the wrapper. Fold the wrapper in half, sandwiching the filling.
Fold up the sides and roll to make a tightly wrapped cylinder. The roll will be roughly 3 inches long.
Repeat until all the wrappers and filling have been used. Ensure that there are no holes in the wrapper. There should be several layers of rice paper surrounding the filling.
Tip
Overstuffing the rolls is one of the most common mistakes. Too much filling leads to soggy rolls that take longer to cook through. Overstuffed rolls are also at greater risk of falling apart during frying.
Heat a wok or large frying pan over medium-high heat, filling with 2 to 3 inches of vegetable oil. Heat until the temperature reads 350 degrees Fahrenheit on a quick-read thermometer.
Gently place a few egg rolls in the hot oil. Do not put too many in at once, as they will lower the temperature of the oil. Fry until they have turned a light brown. The exterior will have small bubbles.
Tip
When done, the rolls will float to the surface and there will be less bubbling around the individual rolls.
Remove with chopsticks, tongs or a metal slotted spoon. Place on a paper towel-lined plate to drain, and finish cooking the rest of the rolls.
Serve immediately with Thai sweet red chili sauce.
Variations
The rolls can be made with Chinese spring roll wrappers, which are flour-based. These produce a crisp crust, but with less chew than rice paper wrappers.
The ratio between seafood and pork can vary depending on personal taste. If you cannot find canned crab, substitute it with minced shrimp.
To make this dish vegetarian, omit all the pork and seafood, and replace with minced extra-firm tofu.
You Might Also Like :: How to Cook a Bicol Express