Scottish Terrier Training Guide
Scottish Terriers can be a challenge to train. New owners should be aware of this from the beginning. Independence is one of the key traits of this very popular breed, so Scottie training must involve the right motivation.
As some professional trainers emphasize, each dog will have its own motivation, whether it is food, toys or just the idea of pleasing its owner.
How to Train Scottish Terrier
Most dogs are motivated by the idea of getting something they want. Call it selfishness or self-gratification, but it involves the owner or trainer teaching the dog that it must act a certain way to get the correct result. Most terriers will have to be trained with absolute consistency.
This means that the owner will have to devote a good deal of uninterrupted time to the Scottie. In addition to time, the owner or trainer needs to have a lot of patience.
But the Scottie does have some characteristics that distinguish it from even its closest relatives among dog breeds. Scottish Terriers can be very reserved, even protective of the time spent alone. Some have even called this a very private sort of dog, especially as the dog gets older. It may be best to at least consider professional training.
Basic obedience and behavior guidelines are very important to any new pet and sometimes the only way to get this result is to have a professional do the initial work. But it is also important that the owner be involved to some extent, so that the behavior patterns can be continued at home.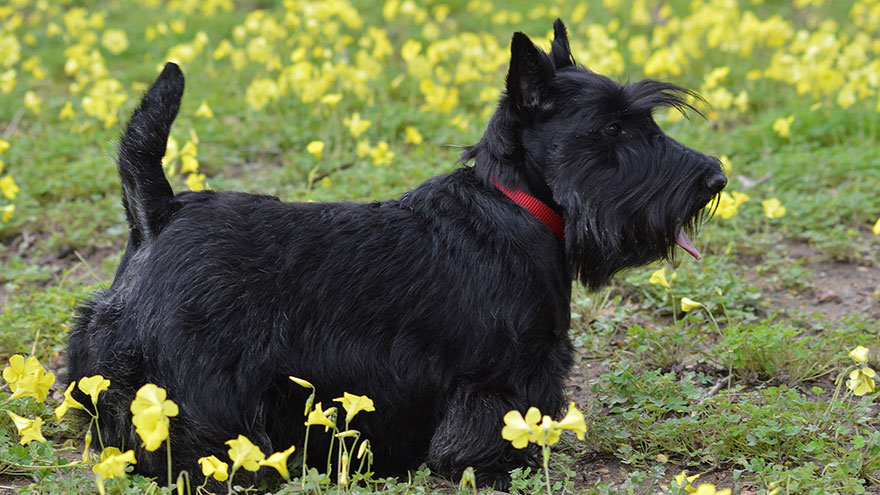 Scottish Terrier puppies can be very lovable and playful. The dog's appearance may lead some to think that the next 15 years with the Scottie will be full of only fun and frolic. For the most part, this will be the case. But to have a relationship with the Scottish Terrier that is worry free, it is important that the young dog gets a strong start.
A top breeder will help establish this foundation by spending time with the young dogs, socializing them so that they are comfortable around other dogs and people. This solid start can set the stage for more successful training later.
It is important that basic obedience training be consistent and include positive reinforcement. A Scottie will not respond well to physical contact as a corrective measure. Hitting a Scottish Terrier will not accomplish what the owner intends, in most cases.
Scotties generally will not be comfortable with a lot of confusion and disorganization, so it is important that training take place in a calm and professional atmosphere. Again, it will take patience on the part of the owner and the trainer to work with the dog when other dogs are around. But in time, the natural intelligence and social nature of the Scottie can come through and the new pet can become comfortable with family members and other pets.
Beyond the basic obedience and behavior training that is necessary for the Scottie, new owners should keep in mind that this dog was bred to work and be active outdoors. With this lifestyle came a tenacious personality and some strong hunting instincts.
Scottish Terriers have been successful in field trials, though many of these competitions are no longer held. Most Scotties are now companions in the home or live as show dogs.
Read More About Scottish Terrier