High Impact Aerobics With Dance Workouts
Dance workouts combine high enjoyment and an intense cardio workout, which makes it effective for losing weight or body fat. A high-impact dance routine will incorporate low- to high-intensity intervals with changes in rhythm and resistance training. Whether you are into Latin music, hip hop, jazz or high tempo, there is a dance workout for you, if you like to shake your hips.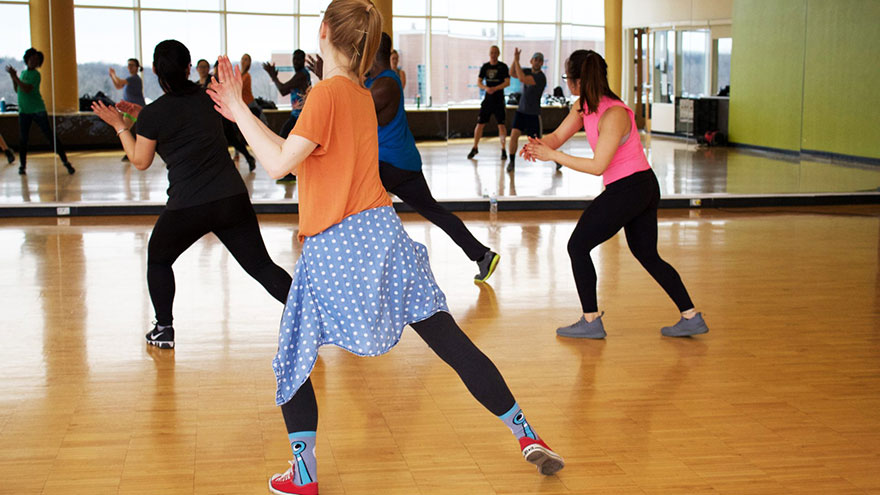 Dancing Effectiveness for Aerobics
Dancing is a vigorous form of cardiovascular exercise, which means you burn more calories in a shorter period than moderately intense exercises, such as brisk walking. A 160-pound person can burn 533 calories per hour performing a high-impact dance routine. However, a low-impact dance, such as ballroom dancing only burns 219 calories per hour. Therefore, the intensity of your dance routine is vital for weight loss success.
Zumba Workout
Zumba is a high-impact dance fitness program that combines Latin music and international music. MayoClinic.com states that research indicates that performing the Zumba dance routine on a moderately intense level improves your cardiovascular fitness. If you enjoy the Zumba dance routine, you are more likely to stick with it and consistently reap the rewards of the aerobic workout. The Zumba toning dance routine incorporates rumba shaker-shaped "toning sticks" to enhance the rhythm and build muscles in the arms, abs and thighs. The original dance routine consist of high energy dance moves that offer interval training and resistance.
Other Dance Exercise Options
Several high-impact dance fitness programs can be tailored to each individual's taste. Other than the Zumba dance routine, other well-known dance programs include the QiDance, which is set to world music, and the hip-hop-centric "Hip-Hop Abs" DVD. Game consoles such as the Nintendo Wii offer interactive dance games such as "Just Dance 2" and "Gold's Gym Dance Workout" for high-impact cardio. Jazzercise is a group-based dance workout that incorporates jazz music into a 60-minute exercise routine.
Things to Consider
Sometimes dance moves can get a little dramatic and increase the risk of injuries. Some common injuries associated with dancing include repetitive strain injury, muscle pulls and knee and hip pain. You can avoid most of these hazards by warming up before you dance — most dance programs have a warmup routine in the beginning — and dancing on a sprung floor. A sprung floor absorbs shock, which relieves pressure on your bones and reduces the risk of injury.
You Might Also Like :: How to Dance to Lose Weight