How to Choose the Right Childcare for Your Baby
Nanny or daycare? The question of where to leave that precious bundle confronts all parents who return to work. Though you may be blessed with nearby relatives eager to care for your baby, most working parents must find outside care.
Keep In mind that a nanny Is not necessarily preferable to daycare, or vice versa. A great nanny beats a mediocre daycare, and an enlightened daycare with loving caregivers wins out over a so-so nanny.
7 Ways to Choose the Right Childcare for Your Baby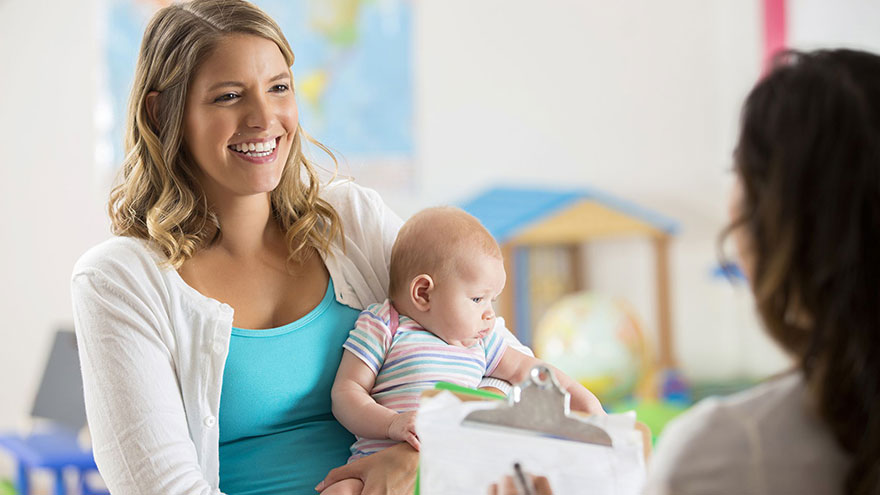 1. While you're pregnant, start gathering tips on daycare centers, home-based daycares, and nannies.
In many cities, competition Is fierce for desirable daycare centers, so It's best to start researching early. Good places to look for leads: other parents, your workplace, local baby activity centers, your pediatrician's office.
2. Assess your scheduling needs.
If your work hours are unpredictable, you might have a problem with a daycare that closes at 6:00 pm sharp. But If you work short hours from home, it would likely be more convenient to hire a nanny for the limited hours you need.
3. Determine your childcare budget.
Nannies generally cost more per hour than daycare, but In daycare, you often pay for full-time care even If you're child's only there part-time. With twins, you pay for two daycare spots, so paying a nanny a little extra might be cheaper.
4. Visit local daycares.
Many popular daycares fill up quickly. Even if you're uncertain whether you'll end up using daycare, get on the wait list to maximize your shot of getting In.
5. Look into available nannies.
Agencies and services are usually the most expensive way to find a nanny, but offer the advantage of pre-screening the nannies. Often you'll get a better rate if you find a nanny through word-of-mouth.
6. Interview several nannies.
Look for compatibilty, good references, and a genuine love of babies. Find out if the nanny is willing to do housekeeping. Does the nanny charge extra for overtime? Is her schedule somewhat flexible?
7. After thoroughly researching your options, you'll have a sense of whether daycare or a nanny is the best choice for you.
You'll also rest assured knowing your baby is in the best possible care.
Tips and Warnings
If you work long hours, daycare may not meet your scheduling needs but a full-time-plus nanny may be too expensive. Consider a "nanny-share" in which a nanny cares for both your baby and another baby. This saves big on your per-hour nanny cost. You might look for a nanny-share buddy at a parenting group, at your workplace, or even on Craig's List.
If you have a new baby and your return to work is fast approaching but you still have no childcare plan, don't panic. Pow-wow with parents, and use a nanny agency as a backup if your own search doesn't net results.
Kids in daycare catch more colds, and most daycares don't let sick kids attend. So if you go the daycare route, be sure to have a backup nanny or babysitter in case your baby must stay home.
You Might Also Like :: Online Infant Care Classes for New Parents