When to Give a Baby Shower
The traditional ideas about baby showers are still well known and useful in many situations, but it has become much more acceptable to bend the rules in recent years. The type of party you're planning may dictate the best time to have it.
It's not uncommon to be invited to party that's co-ed, online, or takes place after the birth. You should be open to changing plans in case the baby arrives early or there's a medical problem.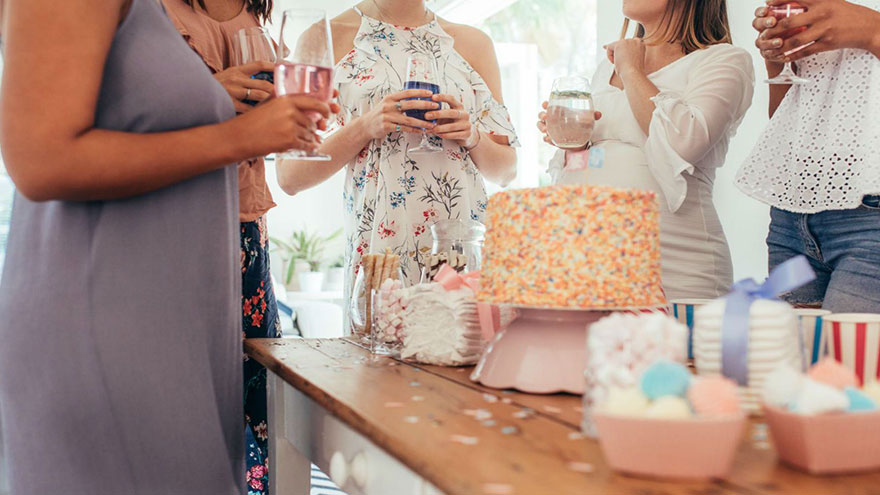 Ask the Expectant Parents
If you're throwing a baby shower for someone, ask her when would be a good time. Factors such as her work schedule and whether a good friend will be out of town may influence the date.
You can approach the expectant father instead if you want it to be a surprise for her. However, you should only do this if you know that the woman loves surprises.
When to Give Traditional Showers
Baby showers are usually held a month or two before the due date on a weekend afternoon. This way it isn't a problem if the baby arrives a little early, and the parents will have to time to buy last-minute necessities that weren't gifted to them.
Most couples know whether they're having a boy or a girl by that time.
You should also consider whether it's appropriate to give a shower at all. Traditionally, they are only done for the first child born in a family. The reasoning is that they should have baby gear left to use again for future children. However, it's becoming more acceptable to plan parties for second and third babies, because each one deserves a celebration–especially if it will be a different gender or there's a large age gap between the siblings.
When to Give Alternative Showers
Certain situations may call for an alternative type of celebration. Online baby showers are becoming more popular for women who are on bed rest or who live far away from most relatives. Gifts can be mailed to the expectant mom.
She may open them on a web cam or take photos to post online. There are many games, like guessing the belly measurement, that can be done in a chat room. Virtual baby showers should also be planned around the eighth month of pregnancy, but it's easier to have them on weeknights.
Some people now prefer to have a welcoming party a few weeks after the baby is born. This option is nice for parents who don't find out the sex through an ultrasound, because it will be easier to choose gifts. It also gives friends and family an opportunity to meet the baby.
When to Send Invitations
Ask the expectant mom to review the guest list at least a month before the party, in case she wants to make changes. Invitations should be sent a few weeks prior to the baby shower. This gives guests time to plan.