How to Eat Cheap While Traveling
You have booked your hotel and bought the plane tickets, and you're patting yourself on the back because you've gotten such great deals on everything. However, the next biggest expense after transportation and accommodations while you're traveling can easily be food.
It is expensive to eat out at restaurants for every meal. You could bring a stack of coupons for national chains or eat off the value menu at Wendy's and Taco Bell, but there are other ways to eat cheap–and healthy–while you're on the road.
5 Steps to Eat Cheap While Traveling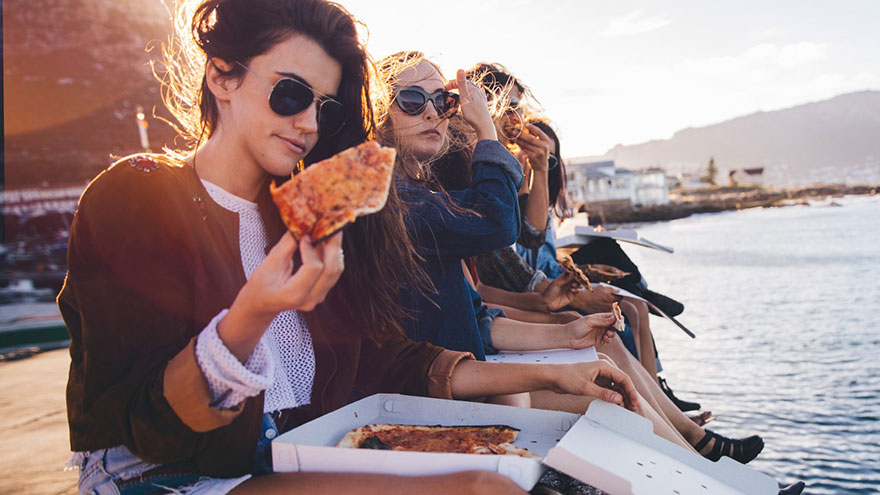 1. If you're traveling by plane, pack small non-perishable items such as packets of instant oatmeal, granola bars, and packages of crackers and cheese or crackers and peanut butter in your checked luggage.
You should also include a few fruit and grain bars or baggies of nuts and trail mix in your carry on luggage. If it will be a short flight, baby carrots or pieces of fruit such as berries or apple slices are also an option for your purse or backpack. You will appreciate having something nutritious and tasty with you when everyone else on the plane is choking down airline pretzels.
2. If you're traveling by car, pack a small cooler or an insulated lunch bag.
These make perishable items easier to bring along. Instead of packing sandwiches, which can get soggy during a trip, opt for small plastic containers of pasta salad (oil and vinegar based may be a better option than mayonnaise-based), individually wrapped string cheese sticks, fruit, good quality dark chocolate, and possibly deli-cut lunch meats. In a separate bag, pack items that don't require cooling.
Consider items such as dinner rolls, nuts, dried fruit, cheese crackers, pretzels, and other snack foods. Between these two containers, you have the makings of a gourmet picnic lunch plus half a dozen snacks.
3. Once at your destination, take advantage of any free food you're offered.
Many hotels offer muffins, donuts, juice, and coffee for breakfast, and some even offer waffles or French Toast. Don't feel guilty if you'd like to splurge on a nice egg and sausage breakfast once while on vacation. But, you should keep an open mind about eating breakfast at the hotel.
There's a stereotype that hotel breakfasts are of poor quality. But you may be surprised at how nice breakfast offerings can be at even modest hotels. Unless it's explicitly against the rules, you can often bring a muffin or piece of fruit back to your hotel for a bedtime snack as well.
4. Check with the concierge to see if there are other options for free or inexpensive food.
Some hotels offer free energy drinks or fruit inside their fitness center. Almost all hotels and resorts have coupon booklets that provide 10 to 20 percent off meals or drinks at nearby restaurants.
It's part of the hotel job's staff to provide information about local restaurants and attractions, so if you're on a budget, don't hesitate to ask for recommendations for inexpensive local Mom and Pop restaurants or good coupon deals.
5. Consider buying one or two meals from a local supermarket instead of eating out at a restaurant for every meal.
Often, the deli at a local supermarket can provide you with sandwiches, salads, chips, and beverages for half of what you'd pay if you bought the same meal at a restaurant. It's easy to make healthy choices when you buy from a supermarket.
You'll be walking right past the produce aisle, so it's easy to pop a few pieces of fresh fruit into your basket for dessert instead of filling up on ice cream or cheesecake.
You Might Also Like :: 5 Ways to Make Friends When Traveling Alone