How to Make Perfect Bacon
Bacon is one of those American staples that's a lot more tricky to prepare than the average cook suspects.
Bacon shouldn't be black and crumbly, nor should it be limp and fatty.
Steps to Make Perfect Bacon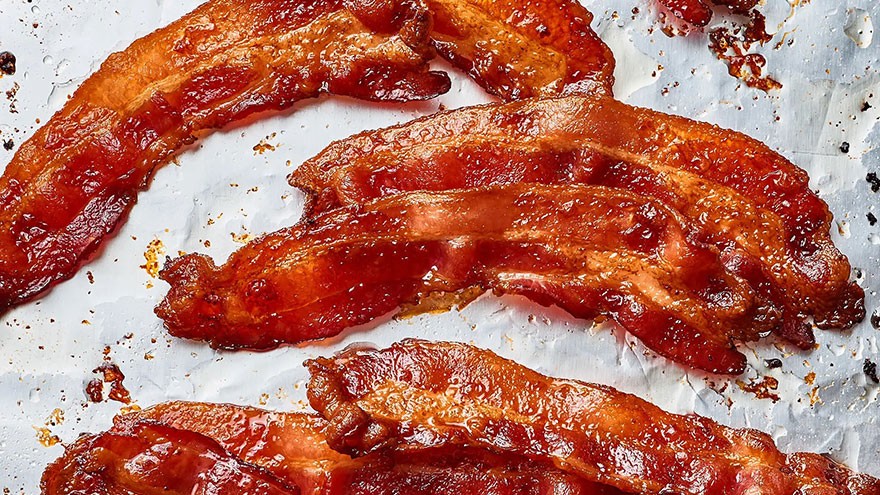 If you have trouble cooking bacon to perfection, here are some tips to make any slice of bacon truly delicious.
When purchasing bacon, look for slices with slightly more meat than fat. If you like your bacon quite crispy, choose thin slices of bacon.
If you have trouble removing bacon from the package, set it out about a half hour before you plan to cook it. The pieces should separate easily, without shredding or tearing.
Place the bacon in your frying pan while it is still cool.
Cook bacon at a low temperature. It can't be rushed!
Turn the bacon frequently, using tongs, not a fork or spatula.
Remove the bacon from the frying pan a little before it's done. It will continue cooking while it sits on a plate.
How do you know the bacon is done? If the fat on the bacon is translucent, it needs to cook longer. When the fat starts creating small, foamy bubbles, the bacon is almost done. The bacon shouldn't be stiff; stiffness comes after sitting on a plate.
If you place the bacon on a plate lined with a paper towel, any remaining fat will get soaked up by the towel.
A more fool proof way to prepare bacon is to bake it in the oven. Preheat the oven to 400 degrees F, and place a rack on top of a baking sheet. Place slices of bacon on the rack and bake for about 10 to 15 minutes. The bacon will be crispy, and nice and flat. Alternatively, you can bake the bacon in the middle of the oven on a baking sheet lined with foil.
If you like the taste of maple on your bacon, but didn't buy bacon with that flavor, simply drizzle some maple syrup over the bacon about three minutes prior to removing it from the oven.
You can also grill bacon. Just heat the grill to a medium-low temperature, place the bacon on the grill, and leave the grill lid off. Turn the bacon frequently, just as you'd do if you were frying it. It should take about 15 to 20 minutes for the bacon to thoroughly cook.
Don't throw away the fat! Bacon fat is superb for cooking and adds great flavor to almost any main dish. Allow the bacon to cool to room temperature, then pour it into a glass bowl or jar. Cover. Refrigerate for a few days, or freeze for future use.
If you want a similar taste to bacon, without all the fat, consider using lean smoked ham, instead.
Check out the video version of this article on YouTube : How to Make Perfect Bacon
How to Make Perfect Bacon