Public Skating Rinks Near Westford, Massachusetts
Tucked away amid rustic farms and dense woodlands, the pastoral landscape of Westford, Massachusetts, creates a setting ripe with recreational activities.
Set 40 minutes northwest of Boston, the small town is home to two public beaches nestled upon the banks of Nabnasset and Forge ponds, and Nashoba Valley Ski Area, a year-round resort outfitted with a tubing park and 17 skiing and snowboarding trails. Although Westford does not have its own ice skating rink, many surrounding cities provide venues with public skating sessions.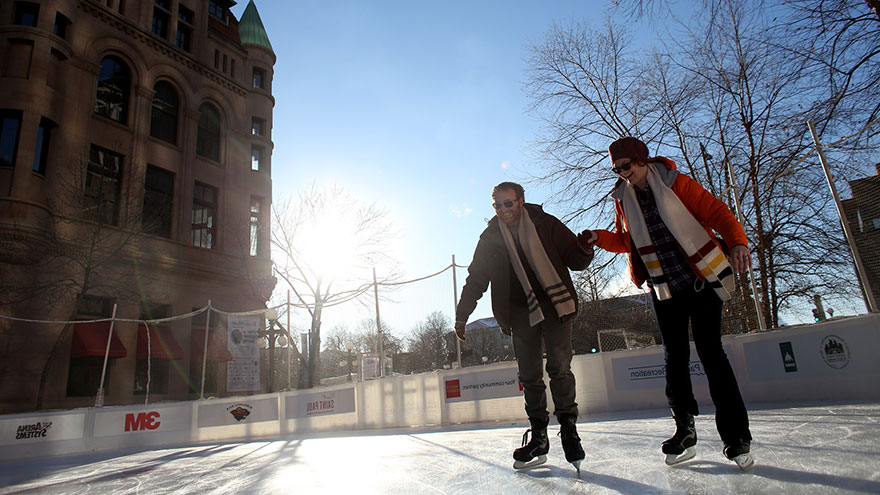 Chelmsford Forum
Just 10 minutes east of Westford is Chelmsford Forum in North Billerica. The 3,500-seat arena hosts ice skating sessions and pick-up hockey games for the open public. The rink also offers an array of programming, including introductory and advance learn-to-skate lessons for kids and adults and hockey skills camps. Many local high school hockey teams use the arena as their home venue. John J. Janas Memorial Skating Rink is in Lowell, 10 minutes northeast of Westford.
The on-site pro shop sells an assortment of hockey and figure skating equipment and provides skate sharpening services as well. In addition to public skates, the venue also has stick and puck practice sessions, adult and youth hockey leagues and figure skating classes for all levels.
Nashoba Valley Olympia
Enjoy an afternoon of public skating at Nashoba Valley Olympia in Boxborough, 15 minutes southwest of Westford. The facility includes three ice surfaces, including one outfitted with seating for 650 people. Known for its renowned figure skating program, the rink also has on-site dance studios and fitness rooms. One of the venue's two resident skating clubs focuses on dance, pairs and synchronized skating teams.
Skate 3 Ice Arena is in Tyngsboro, 15 minutes north of Westford. The arena also has three sheets of ice for skaters. Although the facility provides open skate and learn-to-skate sessions, it specializes in hockey and is the home ice for various local high school teams and youth and women's hockey leagues.
Burlington Ice Palace
Burlington Ice Palace in the town of Burlington is 20 minutes southeast of Westford. Many of the lessons available at the arena are geared toward beginning skaters, such as learn-to-skate programs for kids and introductory hockey skills classes.
The rink also provides freestyle lessons and public skates. After your skating session, grab a snack from the on-site cafe. Valley Sports Arena is in Concord, 20 minutes southeast of Westford. The rink hosts adult and youth hockey tournaments, camps and clinics throughout the year. In addition to learn-to-skate and stick time classes, the facility has open skate sessions, primarily on weekdays.
Conway Arena in Nashua
Make your way to Conway Arena in Nashua, New Hampshire, just 25 minutes north of Westford. The large venue has seating for up to 1,050 spectators. Rent hockey or figure skates during the rink's frequent public skate times.
The venue is also home to various youth and adult hockey leagues and provides basic lessons for burgeoning hockey players and figure skaters. Take a break from the action with a trip to the on-site arcade or concessions stand. New England Sports Center in Marlborough is only 25 minutes southwest of Westford. An elevated mall filled with restaurants and lounge space provides sweeping views of the massive facility's six full-size rinks.
There's also a game room with air hockey and pool tables, a full-service pro shop and 50 locker rooms. Public skating sessions are scheduled around the various youth and adult hockey leagues and tournaments hosted on-site.
You Might Also Like :: Top 5 Offbeat Vermont Attractions