Top 5 Offbeat Vermont Attractions
Located along the board of Canada, New York, New Hampshire, and Massachusetts, Vermont boasts of quaint villages, great skiing, and amazing scenery.
Most tourists to this small, New England state are sure to visit its well-known attractions, including the Ben & Jerry's Factory, Cold Hollow Cider Mill, Bennington Monument, and The Hildene; however, a trip off the beaten path can lead you to some lesser-known, but equally as fascinating, roadside attractions.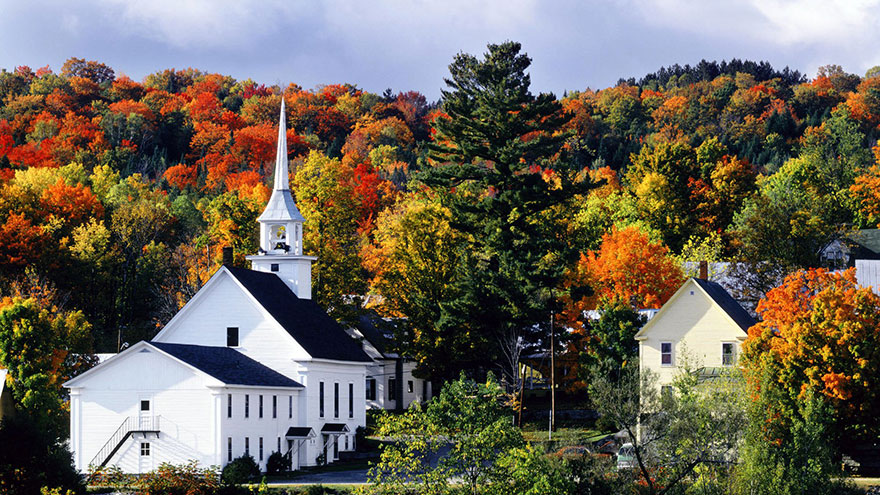 1. Dog Chapel
Memorial Day 2000, artist Steven Huneck first opened the doors to the Dog Chapel on Dog Mountain in St. Johnsbury. Designed to resemble a small Vermont church, complete with dog-themed pews and stained-glass windows, Huneck lovingly built Dog Chapel with hopes that dog-owners and their dogs could come and reflect on life.
Representing Huneck's desire that visitors of any denomination or breed are welcomed, a sign outside the chapel reads, "All Creeds All Breeds No Dogmas Allowed." Visitors often leave hand-written memorials on small scraps of paper, covering the entire surface of the chapel's walls and ceiling. The Dog Chapel is open year-round and is free to both human and canine visitors.
2. Spider Web Farm
If spiders don't cause you to run screaming for the hills (and even if they do), you might enjoy a visit to Knight's Spider Web Farm in Williamstown. Owner and artist, Will Knight, collects real spider webs and, from them, produces beautiful works of art, such as plaques, jewelry boxes, lap desks, and more.
The idea first came to him when he noticed the unique webs that the spiders in his barn created. Visitors to the Spider Web Farm can view, and even purchase, his creations. The farm and gift shop is open 7 days a week from mid-June through mid-October, and then every weekend through Christmas.
3. Hubbard Tower
Located in the heart of Vermont's state capital, Montpelier is Hubbard Park, a wooded area with several miles of hiking trails, picnic areas, and Hubbard Tower. This 54-foot observation tower was built during the early 1900s from stones taken from local wells.
A short climb to the top brings visitors onto an observation deck with amazing 365 degree views of the surrounding area. Located on the grounds below the tower is a picnic table, restroom (albeit not always the cleanest of restrooms), and a yard suitable for throwing a ball or chasing after the kids. Hubbard Tower, as well as Hubbard Park, is free to visitors.
4. American/Canadian Border Marker
Quebec, Canada is Vermont's neighbor to the north. With today's strict border crossing laws, the ability to cross from Vermont to Canada requires a passport or equivalent form of ID.
That is, unless you visit the Haskell Free Library and Opera House, located on the border of Derby Line, Vermont and Stansead, Quebec. A pole marking the border is situated on the building's property, and visitors often seize the opportunity of a photo opportunity with one foot in each country. The library and opera house is open Tuesdays through Saturdays, year-round.
5. Main Street Museum
A collection of eclectic curiosities and oddities await you at the Main Street Museum, located in White River Junction.
Among the exhibits are objects from the near-fatal head injury of Phineas Gage (a railroad worker who survived an iron rod impaling him completely through the head), taxidermy, bizarre local history, and information about tramps. The Main Street Museum is open Thursdays – Sundays, year-round. There is a small admission fee.
You Might Also Like :: Top 5 Beautiful Places In New Brunswick Canada