Rajma is the all time favorite in Delhi and the region of Punjab. This Indian recipe involves Kidney Beans (rajma as locally called) cooked in onion and tomato gravy with spices.
Enjoy this recipe with steamed rice or Indian bread.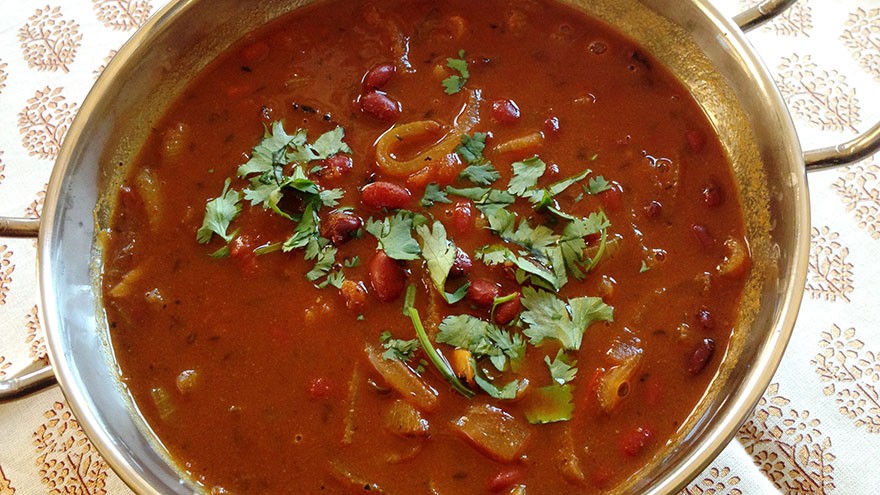 Servings : 4
Cooking Time : 45 Min
Ingredients
2 Cups Red Kidney Bean/Rajma (soak overnight for better results)
1 Large Onion grated/finely chopped
1/2 Tsp ginger paste
1/2 Tsp garlic paste
3 Tomatoes medium sized, grated
1 Tsp: Garam masala
½ Tsp Turmeric
1/4 Cup: Oil
3 Cups Water
Salt to taste
Coriander leaves finely chopped
Preparation Instructions
Wash kidney beans and keep it for boiling in pressure cook for ½ hrs or until till tender. You can also soak rajma overnight for better result.
Heat oil (2-3 tsp) in a pan. Add the paste of tomatoes, onions and green chillies to it and fry on medium heat until golden brown (The oil starts separating from the mixture). Then add red chilli powder, turmeric powder, coriander powder, garam masala and salt. Mix well and fry for 2-3 minutes.
Add 2-3 cups of water to make thick gravy and bring it to boil for 5-10 minutes.
Once it is done add boiled rajma to this gravy and let it boil for another 10 minutes.
Garnish it with finely chopped coriander and server hot with rice or rotis.
Check out the video version of this article on YouTube