Stand-up Paddleboarding in St. Thomas in the Virgin Islands
The call of seabirds and the music of water falling off your paddle are the only sounds as you glide over the surface of azure water just off the shore of St. Thomas in the Virgin Islands.
Standing up on a paddleboard reveals clear views of colorful fish and sea turtles often missed when paddling a kayak or canoe. Quiet bays around the island are ideal for even the first-time stand-up paddler to get a unique view of the island's scenery.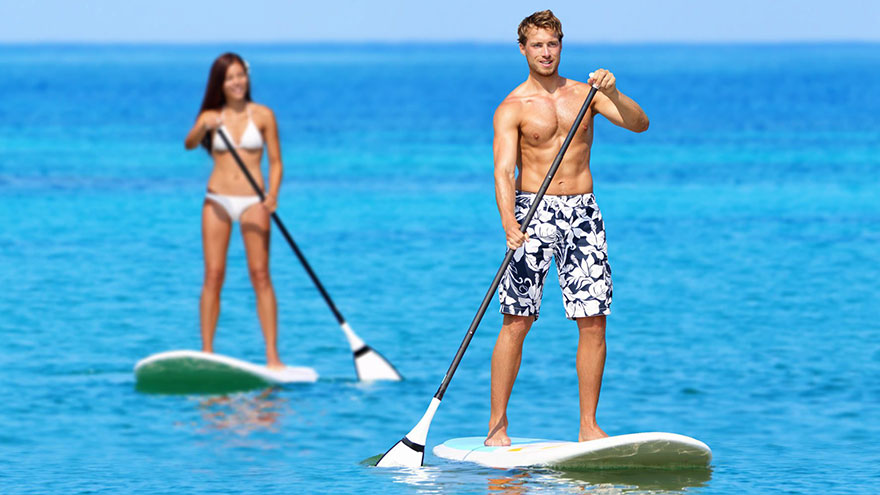 Bring Your Own
Compact inflatable boards and folding paddles make bringing your own stand-up paddling equipment to the islands a cinch, and gives you unlimited possibilities for exploring the island's coastal waters with the beaches just 2 to 5 miles from Charlotte Amalie.
On the east side of the island, Coki Point Beach's warm, quiet waters are a good place for a relaxed paddle to view multicolored fish. If you're looking for paddle-surfing action, you'll find good waves on the western part of Hull Bay on the north side of the island.
Take a Lesson
If you've never paddled before, a few basic instructions helps you get your feet under you and find your balance as you head out in the water. Most shops renting stand-up paddleboards brief you on paddling, turning and other basics so you don't waste precious hours figuring it out. An experienced instructor matches you with a board based on your height and weight to make balancing easy.
Lessons sometimes are as close as the resort where you're staying. Other companies, including Blue Water Safaris, bring you to the board at a quiet paddling harbor or deliver boards to your hotel, such as the Virgin Islands Paddle Club.
SUP Excursions
A SUP excursion pairs you with an experienced instructor and guide who shares knowledge of technique, sea life and local lore. Good Day Charters and the Virgin Islands Paddle Club have bay-hopping adventures combining boating, SUP and snorkeling to scenic destinations on neighboring islands.
Tours visit caves and lava tubes on St. Thomas as well as head out to farther destinations such as the Baths National Park on Virgin Gorda and the uninhabited islets known as the Indians.
Fit and Fun
While stand-up paddling provides exercise for your core, legs and shoulders, SUP fitness classes using yoga and Pilates while balancing on the boards stretch and tone your entire body while building strength.
You'll find classes at Secret Harbour beach resort on the island's East End, or book private sessions for your family or small group. The classes' instructors are SUP-core certified and are members of the Virgin Islands professional stand-up paddling team.
You Might Also Like :: Top Universal Destinations for Scuba Diving