Can Newborn Babies Drink Water?
You may be wondering if your newborn baby needs a cool sip of water to stay hydrated on a hot summer day. Though she may be experiencing the same heat you are, she does not need the extra liquid.
The American Academy of Pediatrics recommends exclusive breastfeeding during a baby's first 6 months of life. The use of formula is another feeding method for parents who are unable to or opt not to breastfeed.
Regardless of your newborn's diet, she doesn't need supplementary water in addition to breast milk or formula, states the Mayo Clinic.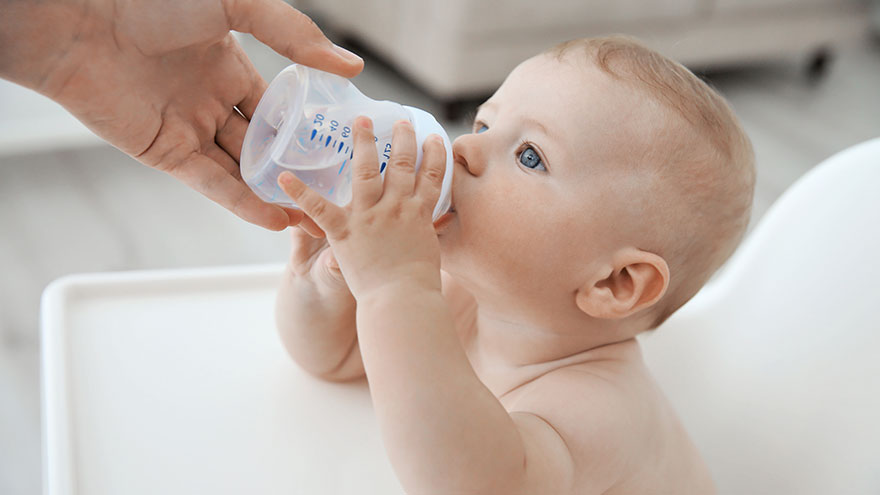 Dangers of Water
Newborns and even older babies have a sensitive balance of electrolytes. Giving a baby water, in addition to breastfeeding or adding extra water to the formula mixture, can cause a dangerous imbalance by reducing or diluting sodium content in the blood, warns the Johns Hopkins Children's Center.
If this imbalance occurs, a baby's brain activity may change, which can cause seizures. Giving your newborn water can also result in malnutrition, warns the Rehydration Project website.
Water displaces breast milk or formula, which could lead to the baby ingesting fewer calories. Water might also contain pathogens, which could cause dangerous illness in a newborn.
Providing Enough Fluids
Newborns should receive all fluids and nutrients in the form of breast milk or formula, without supplementary water, states the American Academy of Pediatrics HealthyChildren.org website.
Breast milk contains 88 percent water so it satisfies water requirements, states the Rehydration Project website.
You Might Also Like : How Much Will a Newborn Eat?
Check out the video version of this article on YouTube
Can Newborn Babies Drink Water