Cheesecake Strawberries Recipe
We want to share a just as easy and perhaps even more delicious strawberry treat – sure to become a favorite for parties, as well as everyday snacking.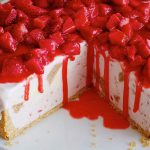 Print Recipe
Cheesecake Strawberries Recipe
Ingredients
1

pound

Fresh strawberries

8

oz

Cream cheese

the kind that comes in a block

A little powered

confectioner's

Sugar

or Splenda

A little pure vanilla extract

A box of graham cracker crumbs

or graham crackers
Instructions
In the bowl of a mixer, combine the cream cheese, 2 or 3 tablespoons powdered sugar or Splenda, and 1 teaspoon pure vanilla extract.

Spoon the cream cheese mixture into a piping bag.

Fill the holes in the tops of the strawberries using the piping bag full of cream cheese mixture. Be sure to cover the entire top of the berry (where the leaves once were).

Dip the cream cheese filled end of the strawberry into the graham cracker crumbs.
Notes
HINT
Choose the best strawberries you can find. They should have no green on them (except, of course, for the green leaf tops) and should show no signs of going soft. Farm fresh strawberries have the best flavor.
Place the strawberries in a colander and wash them with warm, running water. Pat them with a paper towel or flour sack dish cloth until they are dry. Hull the strawberries with a huller, or with a paring knife. Most berries will then have a little hole in the top, but if this isn't the case, carefully carve one out with the paring knife.
If you use whole graham crackers, pulse them in a food processor until they turn to fine crumbs, or place them in a large seal-able bag, a little at a time, and roll over them with a rolling pin until you obtain fine crumbs. Pour the crumbs into a bowl.
The strawberries taste best if eaten shortly after they are made, but you may store them in the refrigerator, in a covered dish, until ready to serve.
You Might Also Like : Making Chocolate Covered Strawberries in 5 Easy Steps
Check out the video version of this article on YouTube
Cheesecake Strawberries Recipe