How to Cook Spicy Malaysian Chili Chicken
Start to Finish : 30 minutes, plus marinating time.
Servings : 4
Difficulty : Beginner to intermediate
Ayam masak merah or red chili chicken, is a dish traditional to Malaysia. It combines sambal olek, a fresh, spicy chili paste made by crushing whole red chilis, with pieces of marinated fried chicken. Salt, vinegar and other seasonings may be added. Chili chicken is sold by street vendors or made at home in Malaysia for a fast meal. This recipe, based on ones from Hooked on Heat and Noonya Cooking, uses a homemade chili pepper sauce.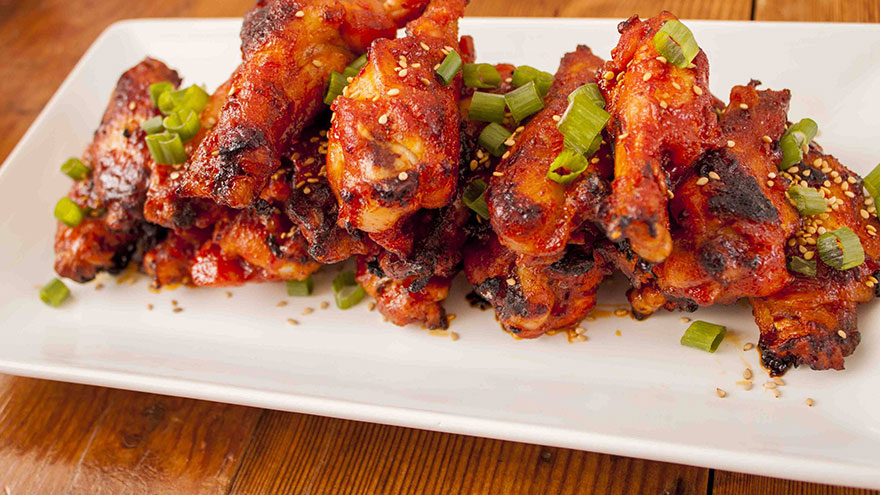 Ingredients
Homemade Sambal Olek
8 tablespoons Thai red chilies, chopped
5 red jalapeño peppers, seeds removed
4 tablespoons rice vinegar
4 tablespoons rice wine
2 cloves garlic, sliced
1/4 cup onion, chopped
2 teaspoons ginger, grated
2 teaspoons salt
1 teaspoon brown sugar
Water
Tip
You can purchase prepared sambal olek at most grocery stores but this fast and easy homemade version gives you more control over the flavoring.
Chicken and Coating
1 pound boneless, skinless chicken thighs, cut into 1-inch cubes
2 tablespoons oyster sauce
2 teaspoons soy sauce
1 teaspoon rice wine
1 egg white, beaten
1/2 cup cornstarch
1/2 cup all-purpose flour
2 teaspoons salt
Vegetable oil to deep-fry
2 cups English cucumber, sliced
1/4 cup minced green onion
1/8 cup fresh coriander
Directions
Making Homemade Sambal Olek.
Combine the first seven sambal olek ingredients in a blender and puree until smooth. Thin with water as needed.
Add the salt and brown sugar and puree again. Thin with water as needed to make a thick but runny paste.
Taste to test sourness, salt and sugar levels. Adjust as needed.
Frying the Chicken
Combine the chicken, egg white, oyster sauce, rice wine and soy sauce in a medium mixing bowl. Stir to thoroughly combine the ingredients and coat the chicken. Let the chicken rest for a minimum of 15 minutes and up to 2 hours.
Coat a medium pot or wok with 3 inches of vegetable oil. Heat over medium-high heat, until the temperature of the oil reaches 350 degrees Fahrenheit.
Tip
– Use a quick-read thermometer to determine the exact temperature of the oil for crisp fried chicken that does not get soggy in the sauce.
– Coat the pieces in flour just before frying. To ensure crisp chicken, cook it in batches, never letting the temperature of the oil drop more than 15 degrees.
Combine the cornstarch, flour and salt in a large mixing bowl, stirring to thoroughly blend.
Dip the chicken pieces in the flour mix, coating completely. Shake off the excess flour before dropping the pieces into the hot oil.
Remove the cooked chicken pieces with tongs or a metal slotted spoon. Place them in a colander lined with paper towels to drain excess oil.
Tip
The chicken pieces turn light brown when they are done, and you see less bubbling in the oil around the pieces when they are fully cooked.
In a large pan, add 2 to 4 tablespoons of the sambal olek, cooking on medium heat. When the sambal turns a darker shade of red, lower the heat and add the chicken pieces and green onion.
Stir to thoroughly coat the chicken and onion in the sambal olek, adding more paste as needed. Cook for two minutes, then remove it from heat. Sprinkle with the coriander and serve the dish immediately, with steamed white rice and slices of cucumber.
Variations
The sambal olek recipe can be varied according to your personal taste. The basic recipe is a blend of red chili peppers, vinegar and salt. Feel free to add other ingredients, such as orange juice or fish sauce, to give it your own personal twist.
Chicken breasts can also be used in place of thighs. However, they are more likely to overcook.
Cucumber slices are served as a cooling agent for the spiciness of the sambal. You can also serve the dish alongside lettuce leaves. The chicken can be wrapped in the leaves, along with some rice and extra sambal, and eaten with your hands.
You Might Also Like :: How to Make Shrimp Tempura Rolls