How to Cook Paella Filipino Style Recipe
Start to Finish : 90 minutes
Servings : 10
Difficulty Level : Intermediate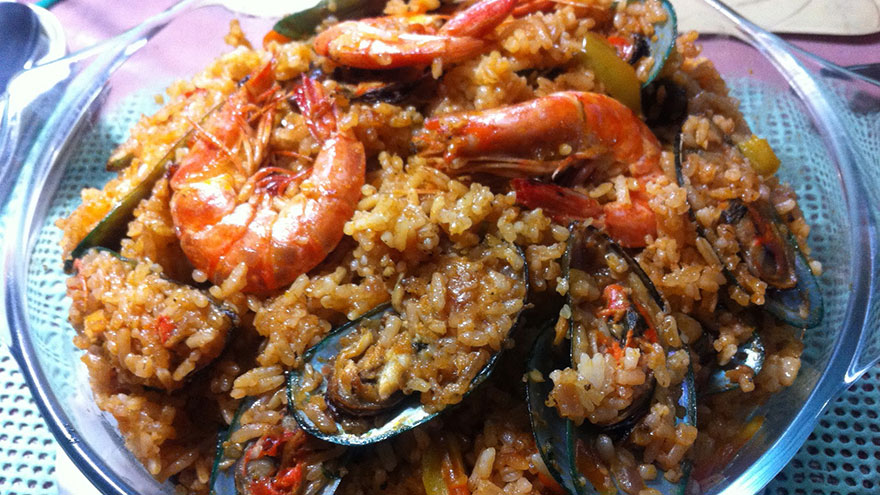 Three centuries of Spanish rule left its mark on Filipino cuisine. One of the dishes the people of the Philippines made their own was paella — a simple dish of rice and seafood with nearly endless variations. You will need a paella pan to make this dish, although you can substitute an oven-safe wok or large, deep skillet.
Ingredients
1 large yellow or white onion
1 head garlic
1 red bell pepper
1 green bell pepper
1 red Filipino chili pepper (optional)
Olive oil
5 cups cooked rice
3 to 5 threads saffron
2 tablespoons paprika
1 28-ounce can stewed tomatoes
8 ounces fresh or frozen peas
1 cup fish or chicken stock
1 tablespoon soy or fish sauce
6 ounces chorizo
8 ounces diced chicken
1 pound fresh shrimp
1 pound fresh mussels
2 hard boiled eggs
Fresh cilantro
Directions
Preheat the oven to 325 degrees Fahrenheit. Dice the onion, garlic and bell peppers. Finely dice the Filipino red chili, if using. Remove the seeds if you prefer a more moderately spicy dish, or leave them in if you like your paella hot. Pour enough olive oil into the bottom of your paella pan, wok or skillet to generously cover. Place the pan over medium heat until the oil is hot, then sauté the onions, peppers and chili until soft. Add the garlic and sauté just until it becomes fragrant — about 15 to 20 seconds.
Warning
Don't overcook garlic. If it starts to brown, remove the pan from the heat.
Add the cooked rice, saffron, paprika, tomatoes and their liquid, peas, stock, and soy or fish sauce to the pan. Stir to combine and cook until the rice is heated through and the liquid has reduced by half.
Tip
Taste the sauce at this point and adjust the seasonings. Add more soy or fish sauce if it needs more salt. Keep in mind that the chorizo will add heat, so don't worry if it's not quite spicy enough for your taste.
Top the rice with chorizo and chicken. Bake the paella for 10 minutes or until the chicken is no longer pink. Add the shrimp and mussels to the pan and return to the oven for another 5 to 10 minutes or until the shrimp turns pink and the mussels open.
Warning
Cook chicken to 165 degrees F.
Slice the hard boiled eggs and arrange on top of the paella. Sprinkle with cilantro and serve.
Tip
Customize the dish by substituting other types of seafood, such as calamari or octopus, for shrimp and mussels.
You Might Also Like :: How to Cook Spicy Malaysian Chili Chicken