Fish has never been considered an easy entrée to cook, but it is favored by many health professionals for its' Omega-3 content.
No fish is higher in protein, Omega-3 fatty acids and Vitamin D than the mighty salmon. It is both satisfying and nutritious, which is not always an easy combination to find these days.
Recipes such as Marinated Salmon Ballotin with Fennel make it easy and quick to prepare a healthy supper that is both visually attractive and palate pleasurable.
This fast French dish takes less than 45 minutes to prepare from start to finish, and will wow even the most finicky of fish eaters.
Salmon is not only a fine main dish, but it is also a lovely first course as in this Carpaccio of Salmon and Wolf with Tender Herbs.
Taking only 20 minutes to prepare, it is both simple and impressive for your guests, as the salmon will marinate and cook in the juice of lemons and is seasoned with chive and tarragon. If you are wild about salmon, OurDeer.com has salmon recipes for nearly every night of the week.
Most take no more than a half hour to prepare, and can be made by the most novice of cooks.
The History of Salmon
The legend of salmon being "brain food" comes from mythology. The salmon is an important creature in several strands of Celtic mythology and poetry, which often associated them with wisdom and venerability.
In Irish mythology, a creature called the Salmon of Wisdom (or the Salmon of Knowledge) plays key role in the tale known as The Boyhood Deeds of Fionn. The Salmon will grant powers of knowledge to whoever eats it, and has been sought by the poet Finn Eces for seven years.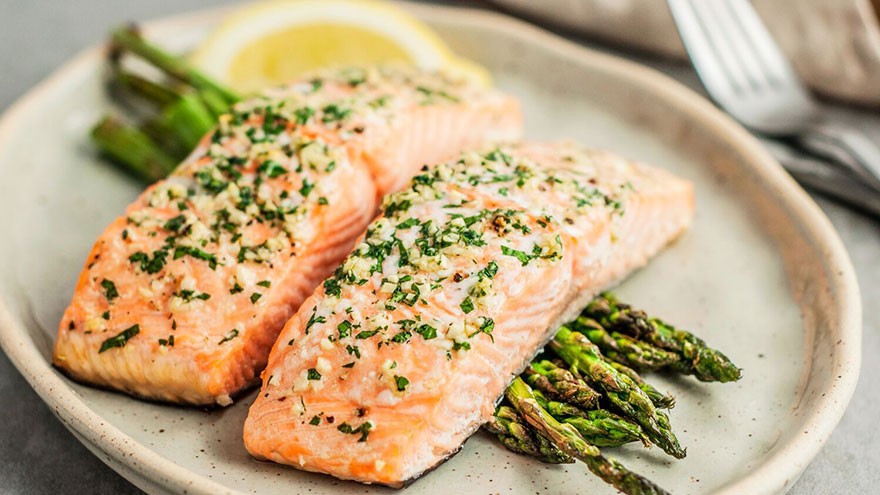 Finally Finn Eces catches the fish and gives it to his young pupil, Fionn mac Cumhaill, to prepare it for him.
However, Fionn burns his thumb on the salmon's juices, and he instinctively puts it in his mouth.
As such, he inadvertently gains the Salmon's wisdom.
Whatever mythology and associated lore has to tell us about the mighty salmon, it is certain that it is a healthy way to continue in on our quest for great cuisine.
Check out the video version of this article on YouTube